While browsing the gun counter of an Alabama Walmart—and for reference, I think that department is usually somewhere between the toys and the women's clothes—a man was surprised to find personal lubricant on display next to all the firearms.
The lube he discovered was Gun Oil H2O, a water-based lubricant marketed primarily to gay men—and one not generally sold in Walmart. In a
uploaded to Facebook and reported by New Now Next, the confused shopper begins the story by setting the scene:
"So I'm an Walmart. Nobody's here to help me. I'm looking around and I see this 'Gun Oil' and I'm like, "Oh wow! It says water based lubricant for your gun!" So I was like, water based? That could rust!...So I start reading up on it."
While checking out the label, he reads about the "long-lasting lubrication with easy clean-up" and is quite pleased! Moving down, he notes that the fact that it's "glycerin and paraben-free" seems like a great thing. And when he gets to the line about Gun Oil H2O having a "wetter, lighter feel that's silicone-free" he says, "That sounds good, that sounds really good. I think my gun would work really good wetter and lighter."

But then he keeps reading:
"I see the 'ginseng and guarana to promote blood flow' and I'm like, 'What?' 'For topical use: apply desired amount to genital areas.' Boom! And they got Gun Oil H2O on the counter! In Walmart! In Florence! They don't even know what they're selling. It's crazy. Getcha some."
G/O Media may get a commission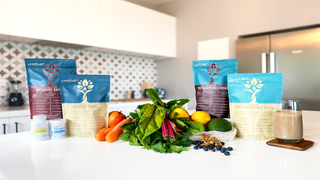 Now, before you say, "But Bobby! Lube is lube and Gun Oil can be used for all kinds of sexual encounters between people of all genders and sexualities," please let me remind you of how they brand their product:
Looks like Walmart might be trying to rebrand itself as the one-stop shop for gay men who are packing heat of all kinds.

---
Contact the author at bobby@jezebel.com.
Images via Gun Oil / Shutterstock.