Dr. Amy Reed, an anesthesiologist, a cancer patient, and women's health advocate who raised awareness about the high risks of a once common gynecological surgical practice, died at her home in Pennsylvania on Wednesday night. Reed was 44.

Her husband, Dr. Hooman Noorchashm, confirmed to the New York Times that leiomyosarcoma of the uterus was the cause.
With her husband, Reed spent the last years of her life working to ban the use of a surgical tool called a morcellator. Introduced to the United States in 1993 and approved by the FDA in 1995, a morcellator is essentially a surgical power tool. To put it crudely, morcellation pulverizers or minces large tissue masses into small pieces so that the tissue can be suctioned out through a small laparoscopic opening. The device is largely considered an important development in minimally invasive or laparoscopic surgery; prior to its introduction, the removal large tissue masses like a spleen or adrenal glands had to be done with a scalpel.
After its introduction, however, morcellation became increasingly popular in gynecological surgery, particularly for the removal of fibroids and in hysterectomies. As Alison Motluk pointed out her in 2015 profile of Reed:
Morcellators are particularly handy for removing fibroids, those benign growths embedded in the uterine wall, as the growths can be as hard as coconuts and sometimes as large. While an ordinary uterus can usually be slipped out whole through the vagina, a fibroid-studded one often cannot. With the help of morcellators, though, doctors can remove the entire organ through holes the size of quarters.
G/O Media may get a commission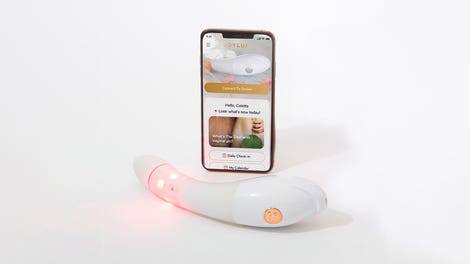 $50 Off
Joylux vFit Gold Device
In 2013, after the birth of her sixth child, Reed underwent morcellation surgery when she had her uterus removed because of fibroids. The surgery took place at the Harvard-affiliated Brigham and Women's Hospital in Boston where both Reed and Noorchashm worked. "As promised, the procedure was fast and easy. [Reed] spent just two hours in the operating room, was out of the hospital the same day and felt pretty much herself two days after that," Motluk wrote in her profile.
The relief was short-lived. A week later, Reed's physician called her to say that biopsies on the removed tissue indicated that she had leiomyosarcoma, a rare form of cancer, that had gone undetected prior to the morcellation. The morcellation itself raised a serious problem. Noorchashm, a surgeon, knew that Reed's best chance for survival was the removal of the tumor from the body, except his wife's tumor had essentially be ground up by the morcellator, spreading malignant cells throughout her abdomen. "At that point, I knew we were in trouble. I knew immediately it was a race against time," Noorchashm told Motluk in 2015.
Traditional cancer therapies proved fruitless for Reed as the cancer, already dispersed by the morcellation, began appearing on other organs. Needless to say, Reed and Noorchashm were angry and shocked that standard surgical approaches to cancer had been completely disregarded. The two began a campaign to ban morcellation. During that time, the couple discovered numerous cases of North American women whose prognoses worsened after morcellation. When Reed had her surgery in 2013, doctors warned that risk of hidden sarcomas like Reed's was one in ten thousand but, after Noorchashm asked a friend at the Boston University of Medicine to revisit those numbers, they found that those numbers were more realistically one in 415.
As these stories usually go, Noorchashm and Reed found themselves fighting an uphill battle to ban morcellation. The New York Times notes:
The gynecology profession also fought back against Dr. Noorchashm and Dr. Reed, insisting that leiomyosarcoma was so rare that the benefit of morcellation — the ability to have minimally invasive surgery — far outweighed any risk.
The FDA too resisted Reed and Noorchashm's calls. Prior to her surgery, the FDA said that they had received no complaints about morcellation, no indication, at least, that the procedure was linked to the spread of uterine cancers through the abdomen. After the couple went public with their story, complaints poured in. The FDA revisited the literature on morcellation and found the numbers worse than the couple had initially suggested. In April 2014, the FDA announced that a new review:
[...] Estimated that 1 in 350 women undergoing hysterectomy or myomectomy for the treatment of fibroids is found to have an unsuspected uterine sarcoma, a type of uterine cancer that includes leiomyosarcoma.
After that review, some morcellator producers like Johnson & Johnson removed their products from the market, but others did not. Indeed, many gynecologists continued to use the procedure because the FDA would not "discourage the use" or morcellation during hysterectomies or fibroid surgery until November 2014. Even then, the FDA did not ban or officially regulate its use. By 2016, the agency had received 284 reports of uterine cancers linked to morcellation.
Amy Reed should be remembered as a crusader for women's health—her work still incomplete. She is survived by her husband and her six children.