Amy Adams and Claire Danes are both on the covers of the January issues of Vanity Fair and Glamour, respectively, and though Danes looks like she's been caught picnicking in Central Park while Adams could be drunk off of too much egg nog, their interviews reveal similar takes on being women in Hollywood.
In Glamour, Danes describes herself as a feminist:
I am a feminist. And I'm so glad that [Girls creator and star] Lena Dunham exists, because she is one too, and she's quite vocal about it. Yes, women have more freedom and more influence than ever, but it's hardly equal. It's just not. It's really f—king crazy. I'm sorry I'm cursing. But it's wild that women are underrepresented [in Hollywood]. I have real anxiety about directing, and that's something to question and challenge and correct.
She also says she doesn't have a problem with people joking about her cry face:
Well, it is true, she gets emotional a lot. [Laughs.] There is that. But I actually think feelings are really hard for people. I think people are made uncomfortable by uncensored expressions of emotion. But, you know, that's my job. I don't have those fears. I really have never been concerned about being beautiful on-screen. That's just not my jam. I'm concerned about it if I'm playing a beautiful character. But it's not relevant for Carrie. I don't need to worry about that, and I think that's really great. I love sitting in the makeup trailer and getting my makeup done in 15 minutes as opposed to an hour and a half.
G/O Media may get a commission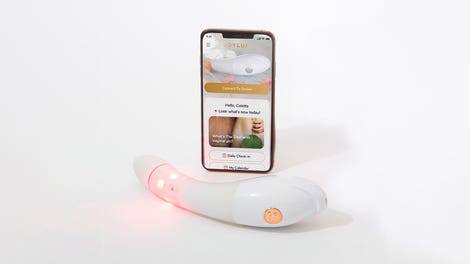 $50 Off
Joylux vFit Gold Device
In Vanity Fair, Adams talks about how she finds herself supporting other women when she goes to auditions:
"I get excited for people when I know I should be competitive," she says. "I'd say in an audition, 'I don't think I'm right for this, but you know who you should get?' I used to do that when I was an unemployed actress." She then mimics herself pitching in a meeting: "Has Zooey Deschanel come in? Because she'd be fantastic . . . Have you met Emily Blunt? Because she is really wonderful."
Both Danes and Adams also talk about how great their chosen life partners are and how great the children they've made with them are too. It's still unclear, however, why one cover appears to be Spring Fresh Fabulous, while the other is attempting to draw out holiday cheer into the new year – especially given that they were both shot by photographer Norman Jean Roy .
Images via Norman Jean Roy for Vanity Fair/Glamour