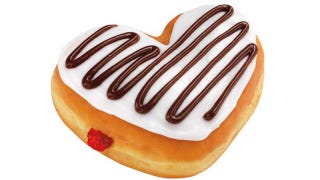 We in the States have really been slacking when it comes to royal wedding paraphernalia, but Dunkin' Donuts is trying to change that with a new William and Kate-themed doughnut.
The official Royal Wedding Donut, which is a heart-shaped, jelly-filled confection with vanilla icing and chocolate drizzle, will go on sale one week before their April 29 nuptials. Baskin-Robbins is also introducing a Royal Wedding Ice Cream Cake with an English garden-inspired design.
Look Dunkin' Donuts, I love your fatty wares, but this is pretty weak. William and Kate really turned up the British with their fruit cake and tea biscuit cakes and you guys can't come up with anything better than vanilla and chocolate? I'm not saying you have to mold a cruller in Kate's image, but can we at least get drizzle in the shape of a crown?