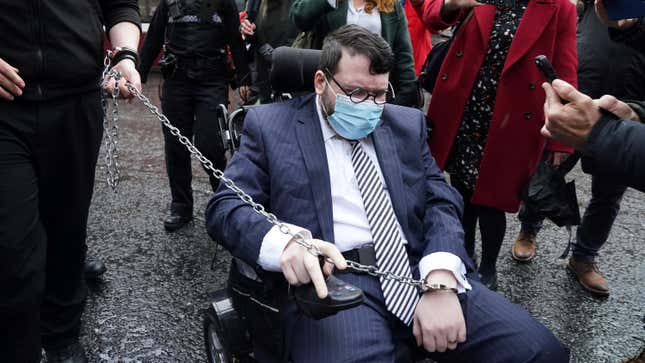 Nicholas Rossi (also known as Nicholas Alahverdian), a Rhode Island man who faked his own death in a bizarre bid to evade sexual assault charges, is doubling down on his claim that he is not, in fact, an American fugitive accused of rape, but instead a British man by the name of Arthur Knight.
Taylor Lautner Doesn't Even Remember Saying 'Bella! Where the Hell Have You Been Loca?'
In a recent sit-down with NBC, set to air Friday evening on Dateline, Rossi put on his best British accent—and stereotypical English costume—to attempt to (repeatedly) clear his (fake) name.
"I am not Nicholas Alahverdian," he huffs in a bowtie, three-piece suit, and spectacles. "I do not know how to make this clearer."
Authorities allege that, in 2017, Rossi faked his own death and fled the U.S. to avoid prosecution for a 2008 sexual assault in Orem, Utah. It's reported that he's been implicated in additional sexual assault charges in multiple states.
Rossi successfully evaded prosecution until he was identified and arrested in Scotland in January 2021. Shortly thereafter, investigators determined that Rossi had hatched an elaborate plan—one that even included an obituary on a memorial website, claiming he'd died of non-Hodgkin lymphoma in February 2020—to escape charges. In reality, he'd fled to Scotland where he reportedly lived as a British man, telling his neighbors that he was a professor at the University of Glasgow.
According to the Financial Times, Rossi made a habit of dressing flashily, sipping whisky at local bars, and ranting about Brexit. One neighbor said: "For someone who was on the run, he really liked to draw attention to himself."
His true identity, however, was confirmed via his tattoos and fingerprints after he was apprehended "for obstructing the course of justice and allegedly [behaving] in a threatening or abusive manner" at Queen Elizabeth University Hospital, where he was being treated for COVID-19.

Since his arrest, Rossi has attempted to convince authorities—and everyone else—that he's simply an unsuspecting Brit. In the Dateline interview, Rossi is joined by his morose-looking wife, Miranda Knight.
"We were once a normal family, but thanks to the media our lives have been interrupted," he explains. "And we'd like privacy and I would like to go back to being a normal husband, but I can't because I can't breathe, I can't walk." As if to emphasize his point, Rossi attempts to stand from his chair before falling backward onto the seat. "Exactly, exactly," he says.
When asked about whether his apparently fake identity and ill health (purportedly prompted by covid) is a put-on, Rossi called the assumption "a very low blow."
Rossi is currently being held in a Scottish jail as he awaits extradition proceedings.