American Apparel has recently come under scrutiny for alleged hiring discrimination with its "full body, head-to-toe" employment policy. Customers, apparently, are not exempt: this skirt is among many items it refuses to sell to any woman over a size 6.
The "Poly-Viscose Pleated Schoolgirl Skirt," $60, is only available in sizes XS, S, and M. Because a size 8 schoolgirl would offend the eyes of one Dov Charney, we suppose.
Among the other garments American Apparel does not make in any size above a Medium — which the company's size guide defines as a dress size 4-6 — are these $20 tricot short-shorts, and these $46 nylon "Disco shorts". And don't think that they just mysteriously ran out of the larger sizes — when certain sizes in a given style sell out, they are typically marked "Unavailable" on American Apparel's website, as, for example, with these shorts. The lack of any such mention of unavailability would seem to indicate that American Apparel never produced any of these styles in anything larger than a dress size 6.
Almost a dozen of the comments on the "Schoolgirl Skirt" point out this oversight:
It's so cute...AA, please make this in size large!!!!
And:
Darling skirt...please make this in a large!!!!
And:
the medium is just too snug for me to wear comfortably. I would definitely buy it if AA starts selling it in size large.
G/O Media may get a commission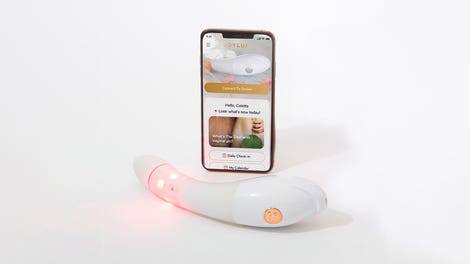 $50 Off
Joylux vFit Gold Device
And:
Like so many others on here I'd love to have this skirt but I'd need a large.
Three people asked for the skirt to be made in navy. And — like magic — American Apparel obliged. So why is all this other enthusiastic customer feedback being ignored? We've asked the company why this skirt was produced in such a limited size range, and what American Apparel's rationale is when deciding which sizes to manufacture a given garment in. We'll update if and when we hear back.
We already knew that American Apparel considers plus sizes "not our demographic." But a size 6? A 6? Are they out of their minds? The average American woman wears a size 12-14. American Apparel is ignoring a vast swathe of its potential customers — customers who, like those quoted above, would happily pay $60 for a synthetic mini-skirt, were one made available to them. No wonder the company is in serious financial trouble.
But don't worry, ladies-who-wear-size-8-or-larger: American Apparel will still sell you these unisex tri-color swim trunks. Handsome, aren't they?
Poly-Viscose Pleated Schoolgirl Skirt [American Apparel]