As you may recall, American Apparel celebrated adding plus-size clothing to their stores by announcing a search for "booty-ful" models. The winner was supposed to be a woman who needs "a little extra wiggle room" and has a "fresh face and curvaceous bod." Nancy Upton entered the contest, submitting photographs of herself eating chicken and bathing in ranch dressing. Her bio: "I'm a size 12. I just can't stop eating."
Nancy's irreverent take on the contest was inspired by the language American Apparel used:
As corny as it sounds, it just occurred to me that based on their "Hey, come on, fatties, we want you to play, too" tone, wouldn't it be kind of brilliant to respond in a, "Thanks for letting me play, just let me try put down the pizza, first" similar mocking tone.
When the voting ended, Nancy was, as far as anyone could tell, the winner. As you can see in this screenshot, she was ranked 1 out of 991. But yesterday, Nancy was informed that she did not win the contest. American Apparel has decided to "award the prizes to other contestants that we feel truly exemplify the idea of beauty inside and out," women they "will be proud to have representing our company." Nancy was also informed that AA CEO Dov Charney, who has been sued several times for sexual assault, is "a great executive director and American Industrialist."
G/O Media may get a commission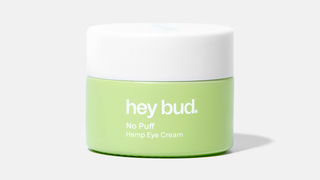 15% off
Hey Bud - No Puff Hemp Eye Cream
The American Apparel rep, Iris Alonzo, also points out that while many companies do not embrace full-figured women, "American Apparel is making a conscious effort to change that, both with our models and our line."
Nancy writes on her tumblr:
I had not intended to share any quotes or specific content from this email with anyone, other than to explain that American Apparel had declined to offer me a prize for receiving the most votes in their competition. As the email was addressed to ME specifically, I assumed it was not meant to be shared.

Actually, it turns out Iris sent the letter to many media outlets who had sought me out over the last week. CultureMap was the first blog (as far as I know) to print the letter and discuss her response.

I am only posting it here because I now assume it is fair game.
Here's the letter, in its entirety, from American Apparel:
Dear Nancy Upton,

My name is Iris Alonzo and I am a Creative Director at American Apparel. Along with four other women, I conceived of the Next BIG Thing campaign for American Apparel. Firstly, we are very sorry that we offended you. Our only motive was to discover and celebrate the many beautiful XL women around the globe who enjoy our brand, and to promote the recent size additions to our collection. Nothing more, nothing less. We would also like to assure you that no one is getting fired over your stunt, as you expressed concern about in a recent interview. We are fortunate to have a great boss who trusts and believes in our instincts and ideas, and we are still very excited about all of our Next BIG Things and looking forward to meeting our new XL brand ambassadors.

It's a shame that your project attempts to discredit the positive intentions of our challenge based on your personal distaste for our use of light-hearted language, and that "bootylicous" was too much for you to handle. While we may be a bit TOO inspired by Beyoncé, and do have a tendency to occasionally go pun-crazy, we try not to take ourselves too seriously around here. I wonder if you had taken just a moment to imagine that this campaign could actually be well intentioned, and that my team and I are not out to offend and insult women, would you have still behaved in the same way, mocking the confident and excited participants who put themselves out there? Maybe you'll find it interesting that in addition to simply responding to customer demand and feedback, when you're a vertically-integrated company, actual jobs are created from new size additions. In this case, for the XL women who will model them, industrial workers that make them, retail employees that sell them and beyond. That's the amazing reality of American Apparel's business.

Though I could spend hours responding to your accusations and assumptions, this isn't the appropriate forum for that, so I will only briefly address a few issues here. In regards to April Flores' "that's not our demographic" experience, I don't recall the name of the confused employee credited with saying that, but he or she was sadly uninformed, and our company certainly does not endorse their statement. For as long as I can remember, we have offered sizes up to 3XL in our basic styles, and as far as adding larger sizes to the rest of our line is concerned, if there is the demand and manufacturing power to support it, we're always game. There are thousands of brands in the market who have no intention of supporting natural - and completely normal - full-figured women, and American Apparel is making a conscious effort to change that, both with our models and our line. If every brand that tried to do this was met with such negative press, we may have to wait another decade for the mainstream to embrace something so simple.

In the past, American Apparel has been targeted for various reasons, many times by journalists who weren't willing to go the extra mile to even visit the factory or meet the people in charge. Dov is a great executive director and American Industrialist, but there are hundreds of other decision-makers in our company, over half of whom are women. I suppose you have read a few too many negative pieces about us that have helped to form your opinion of who we are and what we stand for, and perhaps this has clouded your ability to give us a chance. I get it. I read some of it too. As a creative who isn't always the most tactful and tends to stay away from the limelight, maybe I haven't spoken up as much as I should have over the past 8 years that I've worked at American Apparel. Perhaps I could have shed some light on some issues that have been left cloudy over the years. However, sensational media will always need something to latch on to and success, spandex and individuality (and mutton chops circa 2004) are certainly easy targets. And who knows - maybe the PR ups and downs are all part of our DNA as a company. What I do know is that after all the years I have been working for this company I can wholeheartedly say that American Apparel is an amazing and inspiring place to work. I can't speak for everyone, but I can represent of a ton of people I know when I say that we really like Dov and we passionately believe in his vision for a beautiful factory with sustainable practices. We are the largest sewing factory in North America, after all...10,000 jobs is nothing to sniff at. A lot of people would be very sad if this company wasn't around.

That said, we realize that we are in no way perfect and that we're still learning. We want to do better or differently in many areas, and we are actively working on them every day. You're literally witnessing a transparent, sincere, innovative, creative company go through puberty in the spotlight of modern media. It's not easy!

Oh - and regarding winning the contest, while you were clearly the popular choice, we have decided to award the prizes to other contestants that we feel truly exemplify the idea of beauty inside and out, and whom we will be proud to have representing our company.

Please feel free to contact me directly anytime. If you want to know the real scoop about our company before writing a story, I've got it (or if I don't, I can put you in touch with the person that does!).

Best of luck,

Iris Alonzo
Creative Director
American Apparel
To be fair, Nancy Upton did write: "I most certainly would not model for American Apparel, because (pretty obviously) I don't agree with their business practices. I also would not expect to be asked to do so, even if I receive a majority of the votes (something I never planned on)." So in the end, if the absurdity of the contest was exposed and plus-size women who truly would love to model for American Apparel are getting the chance to do so, then everybody wins, right?
Well, everyone except for noted American Industrialist Dov Charney, who remains an alleged naked white girl enthusiast, has been accused of forcing an employee to perform oral sex on him and accused of running his company with a "reign of sexual terror" and attending meetings wearing only a cock sock and was called a "monster" by a former employee. He doesn't seem like a winner.
American Apparel Responds [Extra Wiggle Room, Nancy Upton's Tumblr]
Earlier:
The Best Entrant In American Apparel's Plus-Size Model Search
American Apparel Introduces Size XL, Holds Search For 'Booty-Ful' Models
Dov Charney's Sketchy, Scandalous History
Image by Shannon Skloss Photography