The original New York-set Love & Hip-Hop aired its fourth episode on Monday and it's clear more than ever that Cardi B, the wild-card ex-stripper, has become the breakout star of the season.
Leading up to the show's December premiere, one might've predicted Remy Ma (the famous rapper who spent six years in prison for assault) as the future fan favorite. Cardi B's debut has proven otherwise. Besides being loud, strange, funny and self-aware—all the right reality ingredients—she's debatably real in a world that's blatantly fabricated, which makes her a welcome face to fans thirsting for honest characters.
Monday night's episode kicked off with a continuation of a club brawl between Cardi and cast mate Yorma, both of whom are dating (in the loose sense...) trifling New York radio personality DJ Self.
Yorma's his girlfriend. Cardi is well aware of being the side chick. Lest anyone mistake her intentions, though, she notes (in a very distinct accent that sounds like a chipmunk from the Bronx) that DJ Self is, in turn, her side dude and that her real boyfriend is in prison. This relationship with Self is, for her, a career boost.
Like with many reality stars, whether you agree with anything Cardi's saying matters less than how she says it. Not much of what she says even makes sense.
G/O Media may get a commission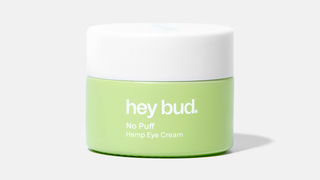 15% off
Hey Bud - No Puff Hemp Eye Cream
Bossip wrote that: "Cardi B is to LHHNY what Joseline Harnandez was to LHHATL." As one Jezebel staffer put it: "There was a Cardi B Instagram vid that changed my life where she talked about how she was in school but then started stripping and then the Russian strippers taught her how to con men for money and now she can afford $10,000 boob implants."
Later in the episode, Cardi offers some plainspoken wisdom to her new friend and cast mate Mariahlynn (also an aspiring artist): "You gotta use these guys," to which Mariahlynn responds, "We gotta make our future with or without them."

Is this woman for real? is a legitimate question, because reality TV loves incubating unreal personalities—two previous examples being Joseline Hernandez and Stevie J. But Cardi B already had a reputation before LHHNY and was cast because of her prior following and because of her "realness" on social media, something the LHH franchise was and is desperately in need of. Cardi is a reminder to everyone who loves her that nothing on reality TV is real but some things can kind of be.
Here's a VH1 video interview with Cardi where she talks about becoming a digital socialite. "Social media, they fell in love with me. The hood was fucking with me and now the suburbians is fucking with me, too," she says. "I would never ever thought that so many people could relate to the things that I say. It has taken me to another world." She sounds exactly like one of the characters Jazmine Sullivan was singing about on Reality Show.

There's no point trying to distinguish the genuine reality TV stars from the caricatures anymore; lots of viewers already accept it as scripted entertainment.
Maybe Cardi is somewhere in between, an authentic persona who exploits both her craziness and the male ego. All of these things seem like her natural way of being. They're also a product of a world where a reality show cast member like Joseline or Cardi can legitimately call themselves a star.
---
Contact the author at clover@jezebel.com.