Breakfast sandwiches and Gatorade just not doing it for you on the hangover-cure front? Great news, then: One of the world's most popular hangover cures has finally landed on America's shores, which as everyone who went to the beach this weekend knows are teeming with drunks.
According to Bloomberg Businessweek, the pharmaceutical company Bayer is finally bringing Berocca to the U.S. of A., via stores like Walgreens and Target. The orange-flavored powder consists of vitamin B, vitamin C and zinc (like an Emergen-C just for winos) and is considered the gold standard for hangover cures among Australians and elsewhere in the world.
But it's been nigh-on unavailable in America, until recently. Quiet online sales began in 2012 and now Bayer is really jumping in with both feet, hiring Joel McHale for a big ad push. He'll play a wacky motivational speaker:
"We looked at the market and saw multivitamins at one end and energy shots at the other end," explained senior brand manager Laura Pinkett. "We felt like there was a great opportunity in this white space in between." Which explains the zany ads.

But does it work? Wellllllllllll... don't bet the farm/job interview after a night of heavy overindulgence. Here's Bayer's tap-dance-y dodge of a statement:
"Whilst there have been no studies conducted on the effect of Berocca on hangovers, alcohol can affect the absorption and use of the B group vitamins. Apart from the other essential vitamins and minerals, Berocca is a high-dose vitamin B supplement which may help restore depleted levels of B-vitamins. Drinking a lot of water or other rehydrating drinks will help towards preventing or lessening most hangover symptoms. Having a Berocca effervescent tablet in water may also help you rehydrate."

G/O Media may get a commission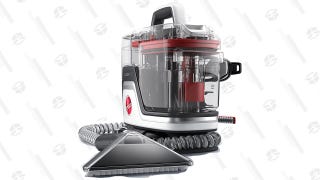 Save $10
Hoover CleanSlate Plus Carpet & Upholstery Cleaner
So they're not making any promises. But anything that'll force you to drink water certainly helps, and it's cheaper than an IV drip!