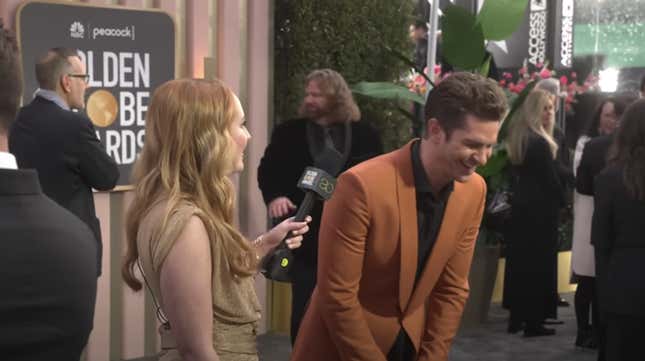 If you've seen Chicken Shop Date, the viral YouTube series in which British journalist Amelia Dimoldenberg munches nuggets with celebrities and fellow content-creators in chicken shops across London, you likely know she's prone to flirt with some of her famous guests. Sometimes, they're keen to play along (Jack Harlow). Others, however, take it too far (Matt Healy, go figure) resulting in both cringeworthy and can't-look-away moments. As a result, she's shot to internet fame, with 1.61 million subscribers, and has parlayed her success from greasy spoons to red carpet gigs.
Luke Macfarlane Talks Starring In Historical Gay Rom-Com 'Bros'
At the Golden Globes on Tuesday night, Dimoldenberg chatted with everyone from Daisy Edgar Jones to Baz Lurmann. No interview, however, garnered a reaction quite like Andrew Garfield's, whom she'd first met on a red carpet in London in November.
As he approaches her at the Globes, video shows Garfield in a fit of giggles—always a good sign as a journalist! He seems to be laughing at her expense, likening her to a "capybera in the wild," before confessing: "I only ever want to see you." Dimoldenberg appears justifiably shocked before he then clarifies—whilst gripping her hand—"That's not the end of the sentence. I only ever want to see you in these kinds of situations." For the record, no one I've interviewed has ever once had this reaction.
"I was going invite you to my birthday party," Dimoldenberg admits. Garfield then proceeds to ask one of the sexiest questions a man can pose: "What's your astrological sign?"

"I'm an Aquarius," she says. He responds with the same face I make when I've asked someone I'd like to have sex with that question and they, too, inform me that they're an Aquarius.
"If you have the sun sign that's the same sign as the moon sign of someone else..." Garfield, who is, in fact, an Aquarius moon, trails off.
"It's not good?" Dimoldenberg probes.
"Nah, it's good," Garfield replies.
"Why is that an issue?" she asks.
"Because I don't think we should explore this," he chuckles, like someone who actually would very much like to explore whatever this is.
"I'm scared of what it could turn into," Garfield continued. "I'm not ready for that kind of thing."
"OK, well, I am," Dimoldenberg confirms. Garfield, and everyone watching, stands shocked.
"Imagine andrew garfield just casually talking to you like that damn," one person tweeted. "rom com now," said another. The video has been spliced and swooned over by thousands on TikTok, too.
Of course, the plot for Garfield and Dimoldenberg, dare I say...chickens, since their first meat-cute actually took place two months ago, at British GQ's Men Of The Year red carpet. Garfield, notably, approached her.
"I think you're great," he sheepishly admitted. "What? Do you know who I am?" she replied. The chemistry is, once again, electric. Seriously, these two can't speak without flirting.
Garfield revealed he's a fan, but has "not gotten the memo" that she's been "trying to get a date with [him] for a while." When they part, he tells her he appreciates the "weird," "specific," and "unique" thing she does.
If anyone on Garfield's team is reading this: Please get this man the memo. It's crucial that we see these two share an order of fries. If not for their future children, then for the terminally online who haven't seen a good romcom since 2007. (Never mind that he's recently been linked to Phoebe Dyvenor!)
Also, if he's got the time, I know of another flirtatious journalist whose sun, moon, and rising are not in alignment with any of Garfield's, but is also not ready for any "kind of thing" apart from...weird, specific, and unique shit. (Me)