"Yo La Tengo playing Superchunk, Mission of Burma and Pixies covers" is one unsurprising description of Amber Tamblyn and David Cross' cool-as-fuck nuptials. Tobias Fünke, 48, and Joan of Arcadia, 29, have been dating for the last four years, and this is the first marriage for both of them. Filmmaker Lance Bangs, in attendance, Instagrammed a cute shot of the newlyweds dancing with their arms around each other.
Congratulations, Tobias and Tibby Joan Girardi-Fünke, or whatever! More importantly, there's now only one sane unmarried Sister of the Traveling Pants variety. Holla at Alexis Bledel. [Us Weekly, NYDN]
---
Even though she hasn't emailed you since that one time, apparently Yoncy is hella crushing on President Obama. "Even when the president was socializing with other guests, Beyoncé always seemed to have her eye on him, watching his every move from afar," "nervously giggling and twisting her hair like a schoolgirl."
G/O Media may get a commission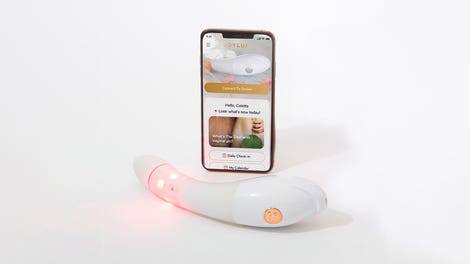 $50 Off
Joylux vFit Gold Device
The source continues, "She jokingly told pals if they both weren't married, the pres­ident could have been in the running for her affections." When Obama spoke about Yoncy's status as a role model for Sasha and Malia, "she was overcome with joy and almost hyperventilated," said the source. "Beyonce told a pal it was a perfect night. She got to innocently flirt with her crush 'and then go home with the love of my life, my husband Jay-Z.'" My gut is telling me that anyone who's actually friends with Beyoncé wouldn't use the word "pal," let alone that often, but this is so fun I want to believe. [National Enquirer]
Meanwhile, Jay-Z takes the subway to Barclays and all hell breaks loose. +3,000 points for the photo of Hova with his arm around a random elderly woman. [Necole Bitchie]
At his final performance, Bey made an appearance onstage and her singing left him so speechless he forgot to come in on time. "Oh shit, I should probably rap here." OMG, they have the best marriage. [MTV]
---
Madonna has scrapped her plans to wear a costume she named "Terror Bride" in her next music video, a sartorial comment on women's oppression and war: half Iraqi bridal outfit, half U.S. soldier's uniform. After her (Pepto-chugging, chronic ulcer-suffering) advisors begged her to please, please, do not do this, especially not after the buttload of controversial press she acquired during her MDNA tour, Madge acquiesced. Alternate idea: Anthrax'ed 30 Rock? [The Sun]
---
Mila Kunis, Esquire's Sexiest Woman Alive, posed topless for the magazine (and at one point, possibly topless and underwearless). She talked about meeting Wolf Blitzer at the White House Correspondents Dinner and how surprised he was that she follows politics. [Daily Mail]
Then she put a shirt on and shit and went to Kabbalah services with Ashton Kutcher. [Us Weekly]
---
Judging by this video, Lady Gaga puked three times onstage in Barcelona. The male dancer from the Haus of Gaga carries on with his overdramatic arm gestures as if nothing is happening. At about 0:25, you can see him being like, THIS IS MY MOMENT. [Vulture]
---
Here's the first shot of Nicole Kidman as Grace Kelly in the upcoming movie Grace of Monaco. [Celebuzz]
---