In the first episode of Amazon's Fleabag, the titular character (Phoebe Waller-Bridge) bangs on the door of her father's house at an unreasonable hour. "I have a horrible feeling that I'm a greedy, perverted, selfish, apathetic, cynical, depraved, morally bankrupt woman who can't even call herself a feminist," she says when her emotionally distant dad (the wonderful Bill Paterson) opens the door. "Well... you get that from your mom," he replies, both unwilling and unable to disagree.

Fleabag is the latest addition to the "unlikable woman" genre of television comedy. The six-part series, imported from BBC3, stars Waller-Bridge who also wrote and created the series. It's light on plot, which is to its benefit, and instead follows the protagonist as she ungracefully stumbles through a failing career, a friend's death, and her deeply dysfunctional family. By that description, it doesn't sound much like a comedy, but Waller-Bridge is deeply committed to that particularly grim British approach that finds a kind of poignant humor in complete and utter failure.
Fleabag's unlikability, which slowly burns throughout the season, isn't just the typical surface stuff. Sure, she makes fun of her uptight, successful sister Claire (Sian Clifford), makes off-color jokes about sex and shit, and calls her evil stepmother (the scene-stealing Olivia Coleman) a "cunt." But in the era of shows like Sharon Horgan's very funny Pulling and, to a lesser extent, HBO's Girls—both of which Fleabag has been compared to—that kind of "unlikeable woman" is familiar enough. There's a lot of cursing, drinking, sex with ridiculous men, and obligatory mentions of being a bad feminist. In short, everything that, in the world of television, signifies the modern middle-class woman's "unlikability" is played for its comic potential.
But Fleabag stands out even in the sea of unlikable women because Waller-Bridge is willing to (and does) dig more deeply into the trope. It's always been a tough trope to navigate, in part because so much of the behavior that's meant to signal that a female protagonist is difficult is often too familiar to conjure up much sympathy. And many of the shows that fit into the "unlikable woman" genre are seeking sympathy or at least some kind of narrative redemption for the protagonist—some kind of evidence that she is not singular in her awfulness. Waller-Bridge, thankfully, has no interest in that kind of confessional redemption.
Instead, she owns her self-loathing and sadness and she deeply regrets her mistakes. She doesn't dissect her strained relationship with her father or stepmother, rather she deflects with jokes and secretly punishes them by stealing one of their prized possessions. She wants to help her tightly-wound and unhappy sister but fails even when motivated by good intentions. "I'm sad all the time," Fleabag says in the season finale, an acknowledgment of what is by then quite clear, despite the string of ironic jokes. Waller-Bridge's interpretation of "unlikable" is both more aggressive and far more complex than its precedents. That alone would make Fleabag a standout character.
But if Fleabag is compelling as a written entity, then Waller-Bridge's interpretation is equally so. Waller-Bridge speaks directly to the viewer, offering her internal narration, and gives us knowing glances with her unusually expressive face. It's a familiar conceit (a handful of critics have compared it to Bridget Jones's narration) and it generally works, particularly when Fleabag narrates the inner workings of other characters—there's a funny bit when she questions Claire's hairstyle and tells the viewer directly that her sister must be having her period, or her "monthly confidence crisis" when she attempts to reinvent herself.
G/O Media may get a commission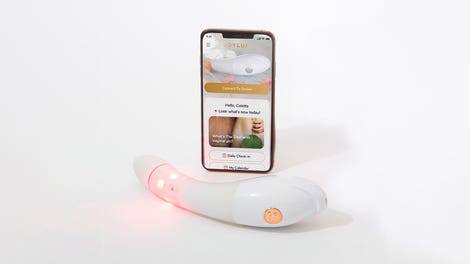 $50 Off
Joylux vFit Gold Device
In between the self-conscious loathing and direct narration, Waller-Bridge also has a clear appreciation for the slapstick. In the season finale, Fleabag goes on a silent, all-women's retreat with Claire; the silence is interrupted both by the sisters' inability to keep quiet but also by a nearby all-men's retreat called "Better Man." In a ridiculous setup, the men—learning to appropriately redirect their sexist anger—pierce the silence by yelling "Slut!" and "Whore!" at blowup dolls. It's in the midst of howling, sexist men that Fleabag acknowledges that she's sad and lonely.
The conflict between the slapstick ridiculous and the grimness, combined with Waller-Bridge's commitment, make Fleabag worth watching. It's a more complicated approach to the "unlikable woman" and a welcome addition to the landscape.