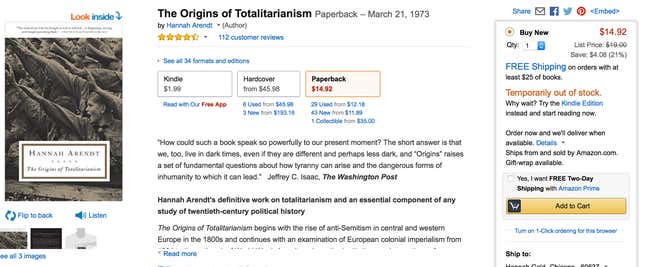 It's been fascinating and a more than a little frightening to watch which books make bestselling comebacks or sell out on Amazon as one indication of the US political climate. In the summer, for instance, you might recall that pocket Constitutions suddenly rocketed to the top of Amazon's best-seller list after Khzir Khan, a Muslim lawyer whose son died during a tour in Iraq in 2004, pulled one out at the Democratic National Convention to admonish then presidential candidate Donald Trump.
The national situation has deteriorated quite a bit since then. Earlier this week, The Guardian reported that sales of George Orwell's dystopian classic 1984 have surged dramatically, becoming the sixth best-selling book on Amazon (by the week's end it hit #1). At this point you'd be lucky to even find a copy in a library.
Now, perhaps even more ominously, Quartz pointed out on Sunday that Hannah Arendt's 1951 analysis of Nazism and Stalinism The Origins of Totalitarianism has sold out on Amazon completely. This is extremely metal. The Origins of Totalitarianism is a nearly 600-page, dense slab of genius that I fondly recall never quite finishing in college. 1984 and the Constitution both easily fit within its shadow. It's worth it.
People who bought The Origins of Totalitarianism also bought books by Camus, Czeslaw Milosz, Masha Gessen, Sinclair Lewis and, unsurprisingly, Arendt (especially Eichmann in Jerusalem).
Meanwhile, The Art of the Deal, a book not written by Donald Trump but picturing his orange mug on its cover, retains it's #11 Amazon bestseller slot, just ahead of a (no doubt lovely) book about how to incorporate more green smoothies into one's diet.
And now, to the local bookstore!