A matronly, 29-year old Amanda Seyfried thinks you younguns need to lay off the 'Grammin'.
Reports Us Weekly:
"[Younger people] spend the entire day on Instagram, and they also take pictures of themselves and post them all the time with a veiled brag," she told Us Weekly. "It's sad."
Boastful, egocentric dogs featured frequently in Seyfried's account, though, are cool, as is "hip" Taylor Swift's Instagram account.
---
G/O Media may get a commission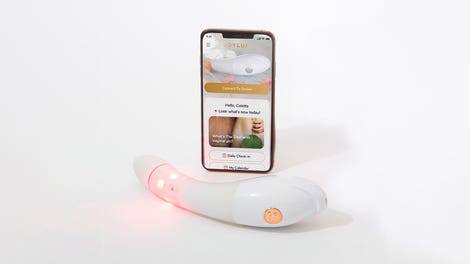 $50 Off
Joylux vFit Gold Device
Heidi Montag wore some sort of athletic tape on her arm to a premiere, which she describes as "cool" but I think serves as an awkward distraction for the fact that she probably should have worn a strapless bra under that tank top. Medical tape, though: great way to get sympathy from onlookers after you've donated blood and/or had a doctor appointment and your arm is all swabbed up with gauze. [Us Weekly]
---
Sad news in the Dion-Angélil household: Celine's husband of 14 years, René, has advanced throat cancer and has to be fed through a feeding tube.
"The fans, they know," said Dion in a tearful interview with Good Morning America. "I'm an open book." Wishing the family a speedy and healthful recovery. [Yahoo!]
---
•Dina Lohan, "fixer" extraordinaire, is Patti Stanger's latest conquest on Millionaire Matchmaker. [Radar]
•Ellen Page has hit her style stride post-coming out and girl looks good in a suit. [E!]
•Emma Stone, too, loves menswear, thanks to stylist Petra Flannery. [Belfast Telegraph]
•Simmering beef: not necessarily what's for dinner, if you're vegan and all, but there's definitely shit brewing between Rob and Kim "The Puppet Master" Kardashian. [Radar]
•Not weird that Rihanna called Jennifer Lopez a "MILF," but weird, kind of, that she said it at the premiere of a movie where she played her daughter. [E!]
•Jay Z is making (more) moves to take over every facet of the music industry. [Engadget]
•Iggy Azalea and her big-ish (I guess? I never really noticed) fake boobs are not into keeping secrets, so don't get it twisted. [Yahoo!]
•Taylor Swift is going to be a godmother to Jaime King's kid and it's just a matter of time before baby lust will make its way into her lyrics, I bet. [Us Weekly]
•More baby news: Naya Rivera is still pregnant, ICYWW. [Us Weekly]
•Tom Ford + George Clooney = yes, please. [The Hollywood Reporter]
Images via AP