During her arrest in Midtown last night, Amanda Bynes was taken to a psychiatric hospital for evaluation; it turns out this was set in motion by "friend and Hollywood publicist" Jonathan Jaxson, who told the police that he had proof that Bynes was suicidal.
"I got police to be able to go to her home. I am told they found drugs and other things. I had proof she was suicidal. There were text messages and other things. I repeated all of this to the NYPD and they took it seriously." Jaxson, who calls the arrest "a successful intervention," says: "I want the world to know that this is a victory and that she is now going to get the help she deserves."
Jaxson had previously alerted authorities to his concerns on May 1st, when he called (and Tweeted at, yay discretion) the NYPD saying that Bynes was "soooo messed up on drugs" and had just had a long phone conversation with her, during which she said she didn't want to live anymore. The NYPD hasn't yet confirmed the suicidal element of the arrest, but maintains they simply responded to the report of disorderly conduct. [Radar Online; lede image via TMZ]
---
G/O Media may get a commission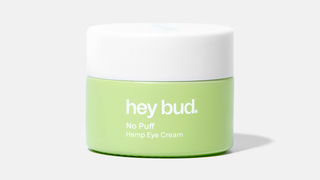 15% off
Hey Bud - No Puff Hemp Eye Cream
Jose Canseco's ex-girlfriend Leila Knight, who dated the former MLB player for 4 years, sticks up for him as he's being investigated for the sexual assault of a Las Vegas woman (and Tweeting about it, including the woman's name, photo and personal information — call 1-800-LAWYERS, dude.
Says Knight: "I've been talking to him all day... it's obvious that it's a publicity stunt, I mean, the girl's an aspiring actress." [TMZ]
---
Julianne Moore tells DuJour Magazine that she gets super bored when all people ask her about are progeny and Botox: "Men aren't asked about their children. Not that these things aren't important, but I do feel like it becomes reductive when a woman's life becomes, 'Talk to me about your kids and how you feel about plastic surgery.'" And on waiting 7 years (NOT that long of a time, IMHO) to marry her now-husband Bart Freundlich: "I just didn't innately feel like that was something I could be goal-oriented about." [NYDN]
---
EXTREMELY IMPORTANT FEUD: Danielle Fishel vs. Bob Saget. It all started when Fishel told Maxim a little story about traveling with the TGIF crew.
"One time we were all on a private jet going to Disney World, and my mom, dad, and brother were also with me. We had these four seats facing each other with curtains, so we had our own little private family area. We were trying to take a nap, and all of a sudden Bob Saget walks down the aisle, rips open our curtain, and shouts, 'Do you guys have any coke?!' Then he looks my dad in the eye, laughs, and closes the curtain. My mom was like, 'What was that all about?'"
"What show was she on? Big Chest, Small Wonder? Saget replied. "She's kind of like Bilbo Baggins, very tiny. The whole thing was as simple as me going to the restroom and throwing out a one-liner. I was always making jokes; that's what I did… I wouldn't expect someone to understand it if they don't get that kind of humor."
Right. I mean, she was a child. Later, she Tweeted that he'd misunderstood and she did, in fact, get the joke. But anyway, fight to the death, you guys! [NYDN]
---
In case you missed it, Taylor Swift's not a fan of Bieblena (Gomer? Juslena? Are you there, God?). When asked what she honestly thinks of her friend's little weird-nugget manfriend, Taylor dodged, but really may as well have said she hated him.
"Ohhh, you do not want to know!" she said, shaking her head and looking down at the floor. "You do not want to open that can of worms. Especially tonight."

When the reporter then suggested that Swift should write a song about it, she laughed before adding, "No, it's not [me] … I'm fine!"
I see. You can blow up Abigail's spot, but you can't write a song about J'Biebs' Kevin McAllister-on-sizzurp antics. K. What if we asked you nicely? [Us Weekly]
Meanwhile, an 18-year-old professional Taylor Swift impersonator in England was beaten up by a female classmate and left with a broken jaw: "Since I started being a lookalike people have been saying stuff." [D Listed]
---