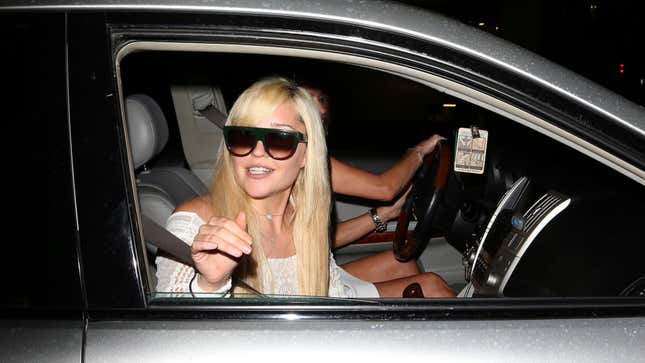 Early Sunday morning, Amanda Bynes was hospitalized after she was found roaming the streets of Los Angeles unclothed. According to TMZ, Bynes waved down a passing car to alert them that she was having a psychotic episode and was in need of medical attention. She then called 911 herself and is now reportedly under a 72-hour psychiatric hold.
Crush of the Week: Daniel Radcliffe's Weird Al
Obviously, I have no insight into her well-being beyond what's been reported, but I'm glad she had the wherewithal to seek help when she needed it.
The former child star was scheduled to appear at '90s Con in Connecticut over the weekend, but canceled last minute due to illness. In their appearance on Saturday, her All That cast mates, Kenan Thompson and Kel Mitchell wished her the best. "It's awesome to see she's doing better. Which is great. We're just continuing to pray for her on her journey, and it's answered prayers that she's doing a lot better," Mitchell said—in a case of truly terrible timing.
This weekend's incident comes almost exactly a year after Bynes ended a nine-year long conservatorship that gave her parents, Lynn Organ and Rick Bynes, control over major life, medical, and financial decisions. (It was not dissimilar from the conservatorship Britney Spears was placed under, though this one showed no signs of Bynes' parents abusing their control.) The conservatorship was put in place in 2013 following a string of erratic behavior from Bynes, a lot of which played out in the public eye and under tabloid speculation.

When the conservatorship was lifted in 2022, Bynes' lawyer, David A. Esquibias, told the New York Times that, "For the most part, [her] mom has allowed Amanda to live freely. She never wanted to be conserved, but she understood why." In 2018, Bynes' mom's lawyer told E! News that "both Amanda and her parents are on such good terms and happy with Amanda's life and future, the Conservatorship is the last thing on their minds." During that conservatorship, Bynes earned an associate's degree and was working towards a bachelor's.
Now, however, an insider has told NBC News that Bynes "hasn't been in contact with her family for quite some time." TMZ claims that someone close to the family said that her parents are concerned but are not considering another conservatorship. My hope is that all of these insiders and sources close to Bynes take a break from calling up tabloids and go spend some time with their friend, who is clearly in need of some love right now.