Amanda Bynes might have a secret, unverified Twitter account she is using to refute media stories about her.
After months of staying out of the public spotlight, Bynes was arrested for driving under the influence earlier this week. When TMZ reported that Bynes had also been kicked out of fashion school, the account disputed that claim, telling more than 7,000 followers that she had not been arrested and had not been kicked out of school. The rumor about her secret Twitter has actually been circulating for quite a few months now.
Ashley Banks" or @persianla27 has been rumored for a while to be a poorly disguised alias, and has been relentlessly tweeting increasingly disturbing shit in the months preceding Bynes' arrest (along with #TBT pics of the star from her 2013 glory days.) There's also a Tumblr linked under the same name, and a weird Instagram andFacebook page.
Here are a few of the tweets from the account.
G/O Media may get a commission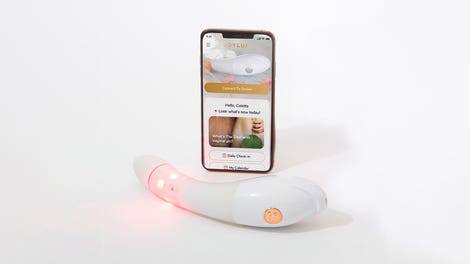 $50 Off
Joylux vFit Gold Device
These do seem a lot like the tweets she was sending out before her verified account went dark. So it could be her. Or it could be someone doing a good job impersonating her.
---
Donald Sterling is probably not enjoying life right now (oh well). According to TMZ, Shelly Sterling found out V Stiviano was at his Beverly Hills home and called the cops. But oops, turns out she was actually invited to be there by him:
We're told Shelly Sterling got wind of Donald and V.'s tryst ... and believed Stiviano must have broken into the house. Our Sterling sources tell us Shelly called Bev Hills PD immediately and reported a break-in.

We're told police officers responded ... and spoke to Donald and Stiviano. One source tells us V. was an "invited" guest, so ... no break-in, and no arrests.
[TMZ]
---
Benedict Cumberbatch said his famous U2 photobomb at the Oscars was all Ellen DeGeneres fault because she "plied" him with Vodka on the red carpet. Benedict, if you're really that into Vodka, LET'S TALK SOMETIME. [Time Out]
Pop music's version of Darth Maul, Justin Bieber, took a swing at some paparazzi in Paris but he won't be charged for anything because France doesn't want the rich, glorious tradition of its penal system infected with the stench of Someday. [E Online]
Black-ish star Anthony Anderson is totes besties with FREAKING PRINCE. I was best friends with Prince once but we got into a horrible fight because he once said he didn't think Joey would ask me to the spring dance and I got mad and then our moms stopped letting us have sleepovers. [VH-1]
Happy Birthday, Julie Andrews! In honor of everything she has done ever, check out this story on how she transformed her career. [Decider]
Kendall Jenner is "obsessed" with Chris Brown because they partied together a couple of times or something. [Daily Mail]
Maggie Q talked about when she was a victim of stalking: "It's terrorizing." [CBS News]
HERE IS MAGIC:
Images via Getty.