Amanda Bynes is threatening to sue In Touch for running "fake" photos of herself along with the exclusive interview she gave them: possibly part of a new game show called That's Not My Flophouse! Take my wife! Please!
The photos of Bynes in her home aren't as bad as you might be thinking. Just a ton of dank weed and black-painted windows — no worse than a Lewis & Clark dorm room, really. Anyway, here's Amanda Bynes in Withnail and Amanda Bynes.
That's not my bed! Those aren't my toes! My toes are pedicured! I just did an exclusive interview with intouch last week, now they bought fake altered photos by that ugly black man in the photo or someone who knows him! They used an old shot of me on the cover with a bad angle of my old nose before I had surgery to reshape my profile and to remove the webbing from my eyes. I have to sue because that's not my apartment, those aren't my clothes! They morphed photos of my face onto someone's body to ruin my life! I have to make a big deal of this and sue because that's not me! I care about my appearance so I have to defend myself! I look like a different person now that I had surgery! Why did they put an old shot of me on the cover? I don't look like that anymore! I only want photos of my gorgeous new nose on the cover of tabloids and real magazines! The photos in this issue are fake and mocked up! I don't care enough to keep talking about it. Just assume that I fucked the boyfriend of the editor of intouch because they fucking hate me!
Also:
@PerezHilton: the only thing sadder than your ugly face still writing stories about me is the fact that you think I'd even step foot in a room with that ugly faced black man.
G/O Media may get a commission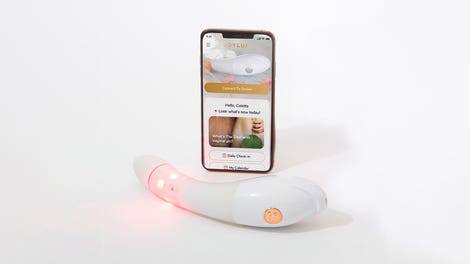 $50 Off
Joylux vFit Gold Device
The "ugly black man" Bynes refers to is one of the photographers, Giovanni Arnold, with whom she reportedly hooked up during the shoot. She's also slamming the In Touch editor responsible.
By the way, her Twitter has never been verified? I just... [Twitter, Radar Online, In Touch]
---
A now-deleted response to MTV's Twitter by Ricky Gervais regarding Oklahoma tornado relief was dickish and on-point, as usual. @MTVNews wrote: "Beyonce, Rihanna& Katy Perry send prayers to #Oklahoma #PrayForOklahoma." Gervais responded: "I feel like an idiot now ... I only sent money." Dickish because very recent natural disaster tragedies shouldn't really be fodder for Gervais to troll religious people. On-point because, well, yeah. [Gossip Cop]
---
Meanwhile, in another universe, modeling is "the perfect job for when you have kids," says Gwyneth Paltrow. Also the perfect job for when you have kids = being Gwyneth Paltrow in general. Here's a day in the life of GOOPy:
I wake up at 7 a.m., I get [the kids] fed, and I get them dressed in their uniforms, any bits of homework are finished... [Then] I take them to school. She [Apple, now 9] gets dropped off at 8:25 a.m., and he [Moses, now 7] gets dropped off at 8:45 a.m., so we have a croissant together in his school dining room and we do reading together. Then I go home and I work for one hour on all the e-mails that come in overnight from L.A. Then I exercise from about 10 a.m. to 12 p.m. Then I work on Goop [the digital media and e-commerce company she founded] pretty much the rest of the day until I pick up my kids and then they have various activities.
[The Cut]
---
Mini-Friends reunion on Ellen. Clap clap clap clap. [ABC News]
Image via Splash