Mary Baldwin University, a small picturesque women's college in western Virginia, is the most recent in a line of women's colleges that appear to be abandoning their historic single sex missions.

In the last few years, numerous women's colleges have begun admitting men to undergraduate programs, closing or revamping their charters—in essence throwing out their original dedication to solely educating women. Recently, the University of St. Joseph in Connecticut formed a committee to determine whether or not to admit men, hoping that the shift to coeducation will increase enrollment. Closer to MBU, two fellow Virginia women's colleges have either become co-ed or have publicly struggled with financial instability. Randolph-Macon Woman's College in Lynchburg, Virginia, renamed itself Randolph College when it became co-ed in 2007. And nearby Sweet Briar College was the subject of numerous headlines after trustees voted to close the small college. Alumnae managed to halt the closing, raising more than $20 million to cover operating costs, but the school was left having to rebuild in an unsteady financial landscape. Small liberals arts colleges, particularly niche colleges, have relatively small endowments that were once large enough to cover costs. But in the last decade, women's colleges, in particular, have felt the squeeze of operating high costs coupled with waning interest.
MBU is no stranger to those financial pressures. Two years ago, the college cut some of its liberal arts majors and focused on expanding co-education professional majors and graduate programs. In 2014, Inside Higher Ed reported that the shift left "some faculty members convinced that the liberal arts college no longer has liberal arts at its center." There were suggestions as well that the admission of men into undergraduate programs was a slippery slope to becoming co-educational but, at the time, MBU reassured students and alumnae that the expansion of these programs would preserve the residential single-sex college within the co-educational university. In other words, the university would admit men and women (who didn't want the women's college experience) and grant them degrees, but the university would still house Mary Baldwin College for Women, the original residential women's college. According to MBU, two-thirds of their nearly 1800 current students attend the co-ed university. That number includes graduate students but, as a note of clarity, Title IX rules require that all graduate programs be co-educational; U.S News reports that men make up seven percent of the undergraduate student body.
But that plan changed earlier this week when MBU announced to students and alumnae that the university would begin providing on-campus housing for male students. "What was once a residential college for women is now a residential college for women — plus some men," Inside Higher Ed notes.
Students and alumnae, however, are upset by the decision to house men which, the college acknowledges, they didn't discuss with the MBU community when they rolled out their plan to integrate men in academic programs two years ago, indicating the plan—which MBU shared with students earlier this week—has been in the works for awhile. Alums of the women's college argue that by housing men on campus and opening all facets of campus life to them, MBU is effectively no longer a women's college, or at least not what they claim to be—a residential single-sex college.
G/O Media may get a commission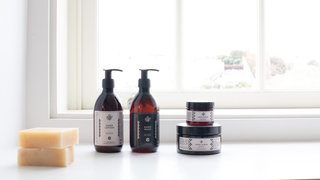 Exfoliate and Hydrate
The Handmade Soap Company
A representative of MBU told Jezebel that Mary Baldwin University, the co-ed school, will still house Mary Baldwin College for Women, the original women's college. That arrangement is understandably confusing. There are, of course, women's colleges that are part of a larger university system but they are rare—Barnard College and Columbia University, for example, have such an arrangement. More typically, women's colleges are absorbed into a larger university and relinquish their independence as single-sex institutions (i.e. Radcliffe College's consolidation with Harvard University or Newcomb College's absorption by Tulane University).
These pairings are generally between universities that, in the past, were all men's colleges, partnering or consolidating with what used to be their sister schools. What MBU is proposing is slightly different: women who still want to attend the women's college can do so, they just can't live on a single-sex campus or ensure that their classes will be women only. This, many alums argue, means MBU is a women's college in name only. MBU's current plan seems to undermine the very purpose of a women's college, an institutional assurance that women's voices will be heard and that women will be the de facto leaders on campus.
On Facebook and Twitter, alums expressed dismay over MBU's decision. Under the hashtags #NotMyMaryBaldwin and #BoldlyBaldwin alums shared their thoughts on what they argue is MBU's decision to abandon their commitment to women's education as well as the MBU's lack of transparency.
That sentiment was reiterated to Jezebel by numerous alumnae. "It's frustrating to feel that the administration has attempted to thwart our imminent discontent with wordplay, which feels more than slightly duplicitous," Devon Burke, a 2009 graduate said in an email. Burke added:
To claim that the [Residential College for Women] is still a single-sex program, under those circumstances, is to mince words. If the RCW is no longer financially viable, as I suspect it may be, then that is a sad truth we must come to terms with, but the current students and alumnae still deserve to be treated like the forthright, intelligent women that Mary Baldwin has made us.
Other alumnae expressed the particular need for women's colleges, particularly in the current political environment. "Women's colleges are needed now more than ever," Corrine Kasura, a 2010 grad said. "This past election is a prime example of how women do not hold the same kind and amount of power that men do in our patriarchal society." Kasura pointed to numerous studies that have consistently shown that women at women's colleges academically outperform their co-ed college counterparts. And Krittika Krishnan, an international student and Psychology major, said that her experiences with lab work at MBU were particularly important to her later success. In an email to Jezebel, Krishnan wrote that she was "thankful" to be "surrounded by female researchers and professors alike, given that women in STEM fields change majors at alarming rates due to sexual harassment within the field."
For their part, MBU leaders argue that expanding the co-ed university will "preserve that wonderful empowering experience of a woman's college." A spokeswoman for the university emphasized to Jezebel that MBU's decision is the result of changing academic tides that have hit niche liberal arts schools the hardest. "There are lots of different models of how the remaining women's colleges operate," she said, "of the remaining 39 women's colleges, there are a variety of models working to help them stay relevant." None of these women's colleges have adopted a model similar to MBU's to survive. 

Many alumnae, however, argue that they'd rather see the school close rather than become a shadow of itself or, at least, that MBU act transparently about their coeducational plans. But as attendees of many schools have found in many scenarios, they are at an impasse with the administration of their school; leadership for MBU said that they "empathize" with alumnae, but argue that they're "empowering women's education through other opportunities."