Y: Bhad Bhabie feat. Megan Thee Stallion "Bestie" - The world needs more songs devoted to friends—or rather muh'fuckin' best friends—who just want to support each other and/or team up against a nemesis. (Motivate me, baby.) This is like an anthem for the Avengers or Real Housewives cast members who pretend to be friends and, yes I am here for it. —Clover Hope

---
IDK: Iggy Azalea "Started" - I'm going to be honest, when "Started" was teased at the end of Iggy's "Sally Walker" video, I got a little hype. Whether we like it or not, Iggy has released a few bops over the course of her career, and I expected this to be one of them. Upon delivery, the song is, well, fine. It's cute, with most of its strength residing in the chorus and a beat that kind of reminds me of "Laffy Taffy." The accompanying video is aesthetically pleasing if a little tacky on the killing-my-sugar-daddy-husband front. But there's one thing I just cannot get over: IGGY KILLS AT LEAST SEVEN DOGS IN THIS MUSIC VIDEO. It happens offscreen, it fucking happens.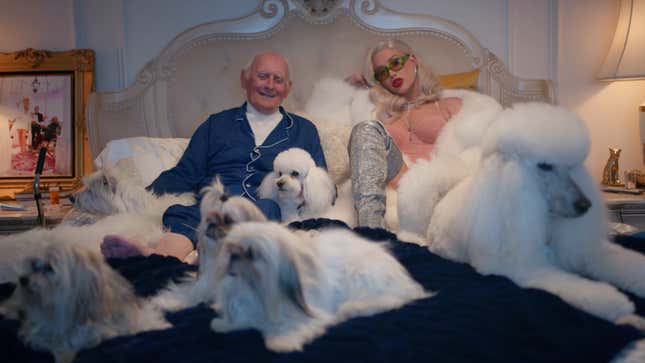 After Iggy successfully kills her husband, her friend (Drag Race's Miss Vanjie) asks if she's "keepin' the puppies." Iggy responds, "No the puppies are—" before moving her hand across her neck and making what can only be described as a dead noise from the back of her throat. Girl, what?

G/O Media may get a commission
25% Off
Coleman SaluSpa Inflatable Hot Tub Spa
Please direct Iggy to the nearest ASPCA next time and may she forever be haunted by Sarah McLaughlan.
(The Trixie Mattel cameo was kind of cute though.) —Ashley Reese
---
No: Shawn Mendes, "If I Can't Have You" - Mendes is much too young to already be making pop music this boring—perhaps it was a mistake to mirror his career after Justin Timberlake (doesn't he know the guy is mostly insufferable these days? Did he even listen to Man of the Woods?) However, his voice sounds great, and I love the Toronto shout-out. Two things can be true at once. —Maria Sherman
---
It's... fine: 21 Savage, "ball w/o you" - For a breakup song, this is overwhelmingly apathetic (with the very exception of the repetitive, AutoTuned "Now I gotta ball" chorus, and the so-bad-it-might-be-great lyrical line, "Valentines Day, she ripped the card and urinated on the rose petals (Damn)." Damn, indeed. —MS

---
Yes: Mal Blum, "I Don't Want To" - For all the working class warriors out there who, on more than one occasion, have uttered, "I don't want to do that" to themselves after being assigned some asinine task by their boss, here's a song for you. It's fun, undeniably catchy poppy-punk ripe for a windows-down, sing-a-long drive... even if that drive is a commute to the office. —MS
---
Yes, but don't blast this if you own a neurotic pet: Holly Herndon, "Frontier" - This blog loves Herndon, not only for her feminist composition and production work, but for her insatiable desire to push the boundaries of what music can be—both in her 2015 LP Platform, and her forthcoming PROTO, created by, in her own words, "an inhuman intelligence housed in a DIY souped-up gaming PC." The cacophonous voices of "Frontier" are an artful extension of that, which Herndon calls a "rare union" of people gathering in a public square in Berlin to sing while facing each other. —MS
---
Nope: Ashley Tisdale, "Symptoms" - Ashley Tisdale may have graduated from the Disney Channel, but her sound doesn't appear to have grown up much at all. "Symptoms" is an earworm, and I'm desperately seeking medical treatment to have it removed. The whole album sounds like the soundtrack of a too-dark Hollister store circa 2006, with lyrics like, "I'm allergic to commitment, got some kind of sickness/Every time I'm 'round you, I start feeling really anxious," reminiscent of the hormonal poetry I wrote in my pre-teen journals. Trust your instincts, Ashley. That boy isn't the one, and this album unfortunately, isn't it either. The only remedy is streaming "He Said, She Said" on a loop. —Lisa Fischer
---
Y: Girl Ultra feat. Cuco, "DameLove" – This is a bilingual match made in sadboi/gal heaven. My favorite Cuco-produced song to date—a perfect blend of vibes between Mexico City's R&B reina and his laidback synths paired with lingering strums make for a sweet summer getaway from wherever you're at. —Ecleen Luzmila Caraballo