A 37-year-old woman has been charged in the death of her twin sister after the two drove off a cliff on a winding mountain highway in Hawaii. Alison and Ann Dadow ran yoga studios together in South Florida and then Utah, fielding accusations of being "scammers" in both places before abruptly vanishing. They reappeared under new names in Hawaii a few months before the fatal crash.
This wild story has been unfolding slowly in local news outlets in Hawaii and Florida before the Washington Post picked it up Tuesday morning. The paper reports Alison Dadow is being held without bail after the crash on May 29, when she and Ann, who was sitting in the passenger's seat, hit a rock wall in their Ford Explorer on Maui's Hana Highway. The car fell 200 feet. Ann was pronounced dead at the scene, while Alison was taken to the hospital in critical condition, then charged Monday with second-degree murder.
A witness said he saw the two sisters violently arguing in the car before the crash, with the passenger supposedly pulling the driver's hair and the steering wheel before the car drove over the cliff. Investigators quoted in court documents say they found "no evidence of braking" at the scene, instead finding that the car accelerated sharply before the crash.
A prosecutor in Maui told the Associated Press that Alison had bought a plane ticket following the crash and was trying to leave for the West Coast; he said they feared she was trying to flee.
"Alison did not try to harm herself or the person she most loved and was closest to in the world," a defense attorney for Dadow, Todd Eddins, told the AP. He called the crash "heart-shattering" and denied that she was trying to leave, saying she was going to attend a funeral for her sister with her grandmother.
G/O Media may get a commission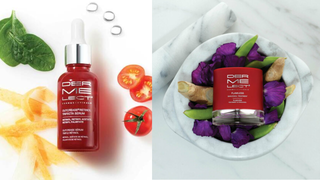 Save $19
Retinol Renewal Kit
The Dadow sisters' winding trail began in Utica, New York, where they were born. In 2008, they founded Twin Power Yoga in Palm Beach Gardens, Florida. The Honolulu Star Advertiser reports that they quickly became famous and then infamous around South Florida:
The studio attracted a strong following, leading to a second location in West Palm Beach three years later.

With their striking blonde looks and high-power clientele, the twins were a conspicuous presence in the Palm Beach community, traveling in matching Porsches and frequenting the tony Worth Avenue shopping district.

"They were very well respected here for a while," said Lambiet, a former reporter for the New York Daily News and founder of the online gossip site GossipExtra. "But when you get successful, it's easy to start overspending. This is Palm Beach. Once you start shopping on Worth Avenue, it can get out of control pretty quickly."
A very lengthy public access-style commercial still exists, showing one of the sisters teaching in Palm Beach Gardens:
The Florida studios closed by April 2014, after which a Gossip Extra report accused the twins of stealing from their employees. Gossip Extra referred to them as the "terrible twins," claiming they'd closed stealthily and absconded to Utah without telling their staff or clientele.
The two did indeed reappear in Park City, Utah, telling a local paper it was where their grandfather used to take them skiing. By the time they arrived in Utah, Ann was going by "Anna." A Twitter page has the sisters referring to themselves as Ali and Ann; it links to an Instagram account that appears to have been deleted.
Gossip Extra claims the pair soon filed for bankruptcy in Utah; a Topix thread refers to them as "big time scammers!!!!!!" They arrived in Hawaii sometime around January of this year, with a homeless shelter worker in Maui supposedly telling Gossip Extra Ann had shown up there saying she was penniless and had been separated from her sister. By then, the sisters were going by the names Alexandria and Anastasia Duval; it's unclear whether they legally changed their names.
Alison Dadow appeared in court Monday and entered a not-guilty plea in her sister's death. A preliminary hearing is scheduled for Wednesday.
---
The twins at one of their Florida studios. Screenshot via YouTube