Did an Anthropologie enthusiast create a "personal shopping service" to scam trusting readers out of their money? That's what some are claiming — and their accusations have rocked the weird world of "Anthro-blogging."
Even some fashion bloggers have never heard of Anthroblogging, but it's a small world unto itself — the blog Effortless Anthropologie, for instance, bills itself as "devoted to the study of all things flowy," and offers reviews, a "trade market" where readers can buy and sell clothes, and even recaps of the clothing chain's promotional emails. EA's founder Roxy told me that the Anthroblogging community comprises about sixty bloggers, and that the vast majority simply talk about Anthropologie's merchandise without selling anything. However, Tracy of the blog The Pursuit of Hippyness had made arrangements with other bloggers in the past, asking them to buy clothes for her in the US and send them to her home in Canada. This allowed her to circumvent high fees or store policies against international shipping. When she learned that Kim of Anthroholic would provide the same service for a fee, she was excited: "now I could get my hands on the items I loved, and not feel guilty asking, because I was paying for this SERVICE."
Apparently, not so much. In a long post, Tracy details her seven-month wait for the four items she had ordered (and paid for) from Kim, a wait punctuated by excuses, false promises of refunds, and even a fake UPS label. She still hasn't gotten her money or clothing, she writes — "the waiting continues." And apparently she's not alone. She says,
I discovered that, despite all of my self-doubt and guilt over 'bothering' her, she's done the Same Exact Thing to others. Same excuses, and even a few I hadn't heard: My neighbour got the package, and didn't tell me. The weather has delayed the shipping. The post office had it and didn't notice it.
And Roxy of EA (who emphasizes that she has never met or worked with Kim) adds, "we are talking about possibly over 100 people by my count and thousands of dollars." She's urging those affected to contact authorities, and one of her readers has posted contact information for the Illinois Attorney General Consumer Fraud Division, as Kim is apparently based in Chicago. Members of the Anthroblogging community are divided on whether Kim was dishonest or merely incompetent, but they seem largely dissatisfied with her apology, posted Tuesday, before Kim made her blog private:
I want to take a minute to apologize. I messed up and I owe it to my readers to apologize. As you may recall, I used to run a Personal Shopping Service on this blog. I am not going to make excuses, but I really dropped the ball and screwed things up with some of the girls who hired me for this service.

My life got overwhelming with some serious family issues and juggling too many things. I should have expressed this, been honest, and not continued to try to personal shop. For this, I truly apologize.

You readers have put a lot of faith in me, and you've been supportive and honest with me. I ask for nothing in return, other than a chance to say I was wrong, apologize, and I hope to move forward as a better person.
G/O Media may get a commission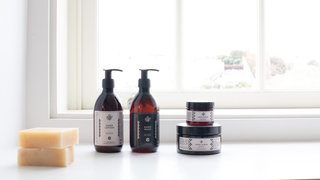 Exfoliate and Hydrate
The Handmade Soap Company
Kim has not yet responded to my request for further comment. Bloggers and commenters continue to write about the issue, and one may have put a finger on why this is such a scandal: "They trusted her b/c she has a big (for that world) blog." In the small pond of Anthroblogging, Kim was apparently a big fish. Whether intentionally or unintentionally, she appears to have used that to her advantage. And now that she's been exposed, her community is roiling as insular Internet worlds inevitably will when confronted with the misdeeds of one of their own.
Why I Will Never Use Anthroholic's Personal Shopping Service Again [The Pursuit Of Hippyness]
Anthro-Bloggers In Uproar Over Accusations Of Scamming [Get Off My Internets]
Alert! Protecting Yourself From Online Transaction Scams [Effortless Anthropologie]
Image via somenametoforget/Flickr.