Crime Time may be fast approaching for the Trump family! On Thursday night, BuzzFeed News reported that, in 2016, Donald Trump privately instructed his personal lawyer, Michael Cohen, to lie to Congress about secret plans to build a Trump Tower in Moscow. This reportedly happened even as Trump repeatedly and publicly denied having any business ties with Russia.
According to two law enforcement sources who spoke on condition of anonymity, both Ivanka and Don Jr. were involved with the project, too: in fact, they were, according to BuzzFeed News' reporting, in charge of the project and received "very detailed updates" about it:
And even as Trump told the public he had no business deals with Russia, the sources said Trump and his children Ivanka and Donald Trump Jr. received regular, detailed updates about the real estate development from Cohen, whom they put in charge of the project.
And here's what Ivanka reportedly handled:
Ivanka Trump was slated to manage a spa at the tower and personally recommended an architect. She also instructed Cohen to speak with a Russian athlete who offered "synergy on a government level" to get the Moscow project off the ground, in another aspect of the deal first revealedby BuzzFeed News that later was affirmed by the special counsel's sentencing memo. Cohen rebuffed the athlete's proposal, which angered Ivanka Trump, according to emails reviewed by BuzzFeed News.
G/O Media may get a commission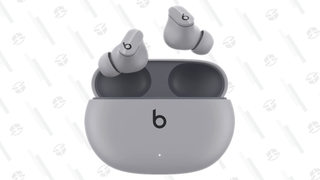 And then here's this:
Cohen also declined comment — but the law enforcement sources familiar with his testimony to the special counsel said he had confirmed that Trump directed him to lie to Congress, and also that he had provided details of his conversations about the project with the president and Ivanka and Donald Jr.

Those three members of the Trump family have distanced themselves from the Moscow project, saying that they had little knowledge of the negotiations. But a picture of their deep involvement is now emerging, as FBI agents and prosecutors pore over witness interviews and internal documents from Cohen and other Trump Organization officials and executives.
The report offers no real specifics on Don Jr., but the lesser Trump son has previously testified that he was only "peripherally aware" of such a plan. (BuzzFeed News' request for comment was not returned by the White House, attorneys for Donald Trump Jr., or the Trump Organization.)
Ivanka's attorney responded to BuzzFeed News by saying she "did not know about this proposal until after a non-binding letter of intent had been signed, never talked to anyone outside the Organization about the proposal, never visited the prospective project site and, even internally, was only minimally involved."
Not so, say BuzzFeed News' sources. Both Cohen and the Office of Special Counsel refused to comment, but we may learn more on February 7, when Cohen testifies before the House.