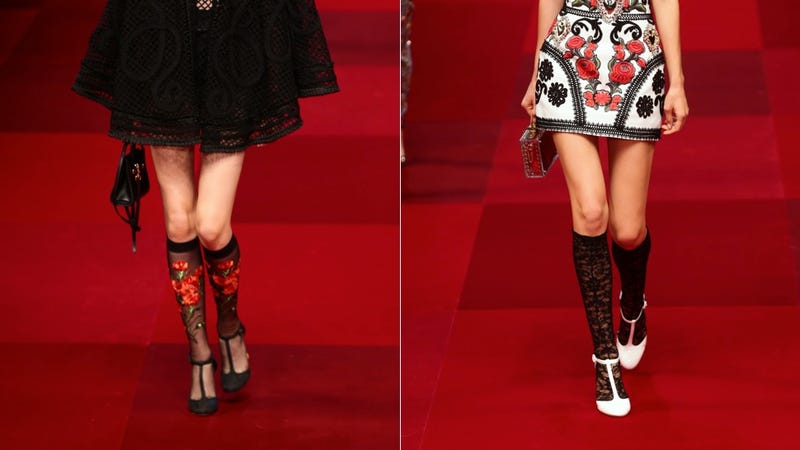 Today in fashion trends that can't hurt you: Compression socks! Apparently, they've become the toast of the glitterati, with fashionable stocking brands popping up left and right to cater to wealthy stylish travellers. Your grandma: doing it before it was cool.
From the New York Times:
In preparation for her most recent sojourn to France, this past September for Paris Fashion Week, Ms. Rubin decided to try compression tights — the thick hose and socks often favored by older people or those trying to address circulation problems.

Not wanting to be the victim of swollen ankles or poor style, Ms. Rubin searched the Internet for alternatives to frumpy tights and found Item m6, a maker of fashion-forward compression wear. She bought a pair of tights for $88. "I got a super-chic charcoal gray pair, and now that I know what they do, I will never go back to not wearing compression when I travel," she said.
Along with Item m6 is RejuvaHealth, Vim & Vigor and Medi — all companies that are offering high-end compression socks.
The rising popularity of these medically beneficial stockings is, according to the New York Times, an attempt by the fashion world to bring old lady style to the runway. (Of course, most of the "compression tights" you're seeing at highfalutin Dolce & Gabbana or Prada shows are really just fancy-ass socks and not technically compression wear.)
Glad to see that the fashionistas are finally getting into what the rest of us found out ages ago: elderly style is where it's at. Looking forward to the upcoming New York Times exposés on chunky knit sweaters and SAS shoes.
Image via Getty.