The MTV Video Music Awards happened on Sunday night (they did) and no one made any bold fashion statements on the red carpet, but there were some pretty gowns, fresh suit twists and a lot of gladiator getups.
Paris Jackson wore nicely cobbled-together separates, courtesy of Dior. It's hard to pull off an embroidered corset plus short-shorts plus sheer skirt but this is sweet, detailed and, best of all, interesting for the VMAs. Yara Shahidi glowed in a glossy Grecian gown the color of gorgeous melted gold and everything about this is right, including the black belt, the draping and shoulder detail. Kesha went for the layered-cake effect and while the tulle is effectively dramatic, there seems to be a disconnect with the top half, like she's about to parachute out of there.
Katy Perry chose a good compelling ivory mermaid slash museum-piece gown; the cropped hair still feels off to me. Vanessa Hudgens's dress is what Satan's daughter would wear to her Sweet 16, makeup included. Not a bad look, just incredibly red. Much has been said about Nicki Minaj's Pepto pink latex catsuit as far as the camel toe. This is exactly what I would expect her to wear to the VMAs.
G/O Media may get a commission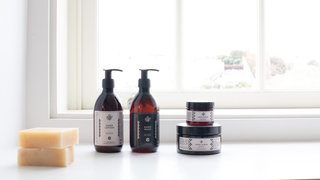 Exfoliate and Hydrate
The Handmade Soap Company
Jack Antonoff is construction worker chic. Drake Bell is in all black and super sheeny. Khalid wore an appropriately fresh and casual color pop. Ed Sheeran is about to pick up an extra lightbulb at Home Depot because his bulb just blew out but he's stopping at the VMAs on the way there.
Lorde wore Monique Lhullier feathers and looked at the camera in a demurely threatening way.
Cardi B went against expectations in a cool Christian Siriano choker-jumpsuit that's both sharp and sexy. Mel B's divorce-statement gown reads: "You will never own me." In case you haven't noticed, Lil Mama has had a total about-face style reinvention and you need to check her Instagram. Yes, she's carrying a bird cage and it's wild and silly and great.
The ladies of Fifth/Fourth Harmony appear none too pleased that they're not at all coordinating. Once again, it seems like there was a red carpet sale and they got there too late and this was what was left.
Billy Eichner is here to take your mother on a date. Tyler Posey's about to take you on a rad date yeah baby! Machine Gun Kelly (yes that's him) wants to know what you think of his British soldier getup and to thank him because at least he tried. Hi, Shawn Mendes is here to take your daughter on a date.
Heidi "freaking" Klum loves her a fleshy cleavage gown. I love this pleated gladiator number on Hailee Steinfeld. As usual, Christina Milian is in a strap dress that goes for sensuality. Olivia Munn's short shirt has a fun Betty Boop angel or fairy rendering.
Okay, Alessandra Ambrosio (this is a lot) and Tiffany Haddish (this is just enough) are prepared for some kind of sexy Game of Thrones battle! Hailey Baldwin's jumpsuit has a pretty icicle effect but the whole look is dissatisfying.
Demi Lovato is a boudoir genie in a bottle. Millie Bobby Brown has a little rocker edge. Seems like Keyshia Cole's garment underneath needs a little more length for this look to work.
Remy Ma ladybug effect and while I don't quite get it, I do appreciate her for wearing it. Rapper Young MA and Joan Smalls put their own relevant twists on the classic suit.
Kendrick Lamar is wondering why you're looking at him and I'm not sure what to think of this but it is very HIM. Lil Uzi Vert's denim and skinny jean mixture is also very him. Pete Davidson and Cazzi David's hip style is very them.
Lil Yachty's khaki collegiate-nerd garb is apropos for back to school season. I don't know what Joe Jonas is doing with this mustache and sparkly lapel but it belongs in Vegas. Billy Ray Cyrus has too much shirt, and Migos member Quavos doesn't need one.
Amber Rose looked like another person at the VMAs, which she attended with her boyfriend 21 Savage. He's in a suave two-piece suit. Here's your favorite couple Nev and Laura Perlongo, who have some mustard-ketchup coordination going on. Ludacris and his wife Eudoxie are way too cool and mature for this show.
There's baby Asahd, the star of the night, matching with his dad. Gucci Mane and Keyshia Ka'oir are king and queen of the night. Logic is wearing a fanny pack because.
Love & Hip-Hop's newest cast member Chanel West Coast took it back to the tube top era. Teyana Taylor and her insane abs mirrored a classic Janet Jackson '90s outfit that proves how easy it is to be simple yet striking. And Mona Scott-Young, the woman behind the Love & Hip-Hop madness, looks fun and comfortable.