The Grammys are basically toast, between producers consistently pissing off major artists and sniveling RIAA turtle Neil Portnow consistently blaming other people for its own trash institutional problems. But you know what? It's awards season, and we wanna look at fashion, so fuck it. Let's see what the stars' stylists are feeling in February 2019! Below, Tierra Whack is always giving you her off-kilter, super cute personal style, here in a feathery muppet trench and clay miniature jewels.

Dave and P from Chromeo always have cool tailoring, and Andrea Echeverri of Aterciopelados forewent her folksy fashion tonight to just cosplay as a Grammy; she's probably gonna be the most interestingly dressed of the evening.
Rashida Jones, new mom in navy chiffon, is here to accept her Grammy for co-producing on Quincy, a very good documentary about her dad. And again, Tierra, young princess. Guiding her own light.
G/O Media may get a commission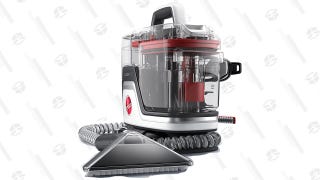 Save $10
Hoover CleanSlate Plus Carpet & Upholstery Cleaner
Eve and Fatoumata Diawara went with elegant black and strong accessories, where Mura Masa matched their looks. Tayla Parx, who you might know from co-writing hella Ariana Grande songs, including half of Thank U, Next, is an early fave in Grammy party pink and sensible footwear. She's good.
Normally I love a sequin mock turtleneck, but Camila Cabello's orchid Armani Privé column gown isn't really doing it for me. At least it's not another lipstick red tulle thing. Loving Leon Bridges's personalized suit, and Maren Morris's chiffon is ultrafeminine as is her wont. Ricky Martin's young companion is overshadowing him in the ensemble department—Ricky, what's with the shirt—but it's fine. Sometimes you gotta let a kid win.
I have never heard of Best New Age Album winners Opium Moon, but I'm extremely glad they are called "Opium Moon" and are wearing these outfits. Checking out their joints ASAP.

Winter whites are my favorite: Ashlee Simpson's giving us ostrich/sequin eleganza, and Meghan Trainor's sleek in a structured jumper. Kacey Musgraves's neckline is a built-in fan, and shut the front door because Dionne Warwick's a knockout in Eileen Fisher realness and matching gown to hair.
Now it's time to play WHO WORE IT BETTER: Neutrals Edition. Was it...
Florida Georgia Line, in Grecian gowns and simple black suits, or was it...
Pentatonix, in lush textures and the (gulp) mullet flex? I am withholding judgment until we see more taupe on this shit.
Alessia Cara's crocheted dress is so cute! Love how it's formal but playful and doesn't overwhelm her youthfulness. Charlie Puth is out-Pentatonixing Pentatonix in this look, congrats. And Little Big Town is always wearing some variation of these looks, which I love—they know what they're comfy in, which is like 35 percent of achieving personal style.
B(ae)TS look so formal! They better win something or Grammys Twitter mentions shall detonate.

Please take in these bisexual lighting sequins and perfect runway pose Gabi Wilson aka H.E.R. is delivering unto us!
Red and black, maybe they're trying to tell us they're all anarchists. Alicia Keys and Swizz Beats couples-coordinated in the subtlest of ways—their buttons are giving us tiny symmetries. Dolly Parton is a bird of paradise in ruffles and jewels. Jameela Jamil, with her beau James Blake, kept it low-key in coral-and-red chiffon, and Linda Perry's here with her signature road-dog got-your-back-in-a-bar-brawl slouch.
It's pantsuit time... Beck matched his dots with his daughter's, Tuesday Hansen; Miley Cyrus's flare trousers are hitting me right in the Spring moodboard; Shawn Mendes's look is reminding us that the cobalt blue suit for men isn't dissipating anytime soon. Dua Lipa's silver look is giving us old-world Hollywood.
COME THROUGH, STRUCTURAL HUES! This is what I'm talking about, it's FASHION, it's personal, and it's statements. Chloe and Halle are in white tulle embellishments while Janelle Monaé and Heidi Klum are giving us statement shoulders. Finally, some fucking life up in this piece!
Bebe Rexha found her dress, congrats. Chaka Khan is the original thigh-high boot baddie, never forget it! Mark Ronson's cater-waiter tux still seems chic cause it's Mark Ronson, and Natalia Lafourcade is doing tradition with grace, as ever.
Basic black is the easiest, obviously. Natasha Lyonne's tux dress is cute, J. Balvin's structured look is fashion forward, Pusha's Thom Brown is my shit.
My mans Kiedis, wtf is going on???????????
The drama has arrived: Ashanti in a mountain and a valley of a skirt; Gaga matching her hair with her dress again; Jada Pinkett Smith giving impeccable '30s glam; Dr. Ruth Westheimer here to get all the boys shook.
Millennial pink, you will never die. Anna Kendrick and Katy Perry in fluffy cupcake shitses, with queen Cardi B as a fricking blooming rose via 1995 Thierry Mugler, do not invade her personal space tonight!
Fantasia Barrino and St. Vincent brought the hues, too, and Miguel knows that a white suit favors him.
Color! The great Andra Day has moved into Supremes-era lavender in her vintage style story; Ella Mai's repping the UK with a train worthy of a royal; Hennessy Carolina's orange shoulder poof are here so you will not forget her next to her sister Belcalis.
J. Lo went with her Priestess Carmen Sandiego ensemble; George Clinton and Stephanie Lynn Clinton should have been invited to the Deus Ex Machina Met Ball; Post Malone is wearing a thing I would have died to wear in 2004, if it were velour and a tracksuit. I appreciate the sentiment.
Damn, the President showed up. I guess the Grammys still got some juice after all!