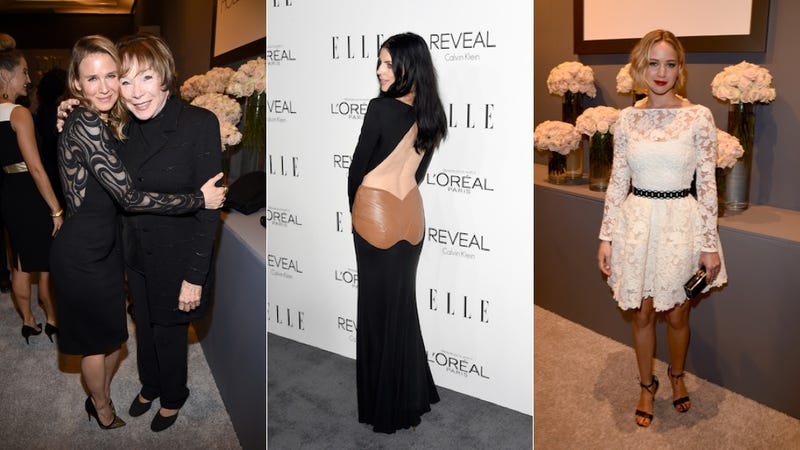 It seems like almost every woman in Hollywood showed up to Elle's 21st Annual Women in Hollywood awards Monday night – and why the hell not! Women in Hollywood, hear yourselves roar.
Ashley Madekwe, Kaley Cuoco and Tina Fey wore the most basic black looks of the night – but they were certainly not alone in choosing that particular color palette. Tina's hair looks amazing, but I'm not loving Kaley's weird shoulder growth.
Jessica Lange was pure class, while Kate Nash pulled out her velour and channeled an ice skater (an inspiration you'll see struck another attendee as well). There is A LOT going on with Teyonah Parris's ensemble and, excluding the hair and the shoes, very little of it is good.
In less basic black: Kerry Washington and Lizzy Caplan both wore Calvin Klein Resort 2015, though Kerry's accessories (and nails!) matched a little more perfectly. Amy Poehler went for knitwear, which looked like it have been hot, but she seemed to pull it off nonetheless.
Renee Zellweger hugged a bunch of people, including Shirley MaClaine and Sarah Paulson. The sheer, psychedelic quality of the top of her dress worked a lot better than Paulson's sort of batty aunt outfit.
Emmy Rossum and Brie Larson went menswear, while Molly Sims pulled out her best croptop and pared it with a more flowing skirt. Eh.
More in black and white menswear: Andie McDowell wore an outfit my mother would choose for a casual party, Lykke Li looked like a sulky baby and Ari Graynor aged herself about 20 years.
Liberty Ross, drawing attention to her ass with brown leather. Perhaps that'd be comfortable to ride a horse in, but otherwise, the purpose of this design choice is unknown.
Michelle Monaghan's dress looks like something Ariel the Little Mermaid would like, while Jennifer Lawrence goes simple with lace. The belt is slightly off, but the rest of it is nice.
Finally! A bit of color. I unabashedly love Jennifer Garner's skating costume, though it's unclear who else could really pull off a drop waist like that. Her hair and makeup are perfect also.
Maybe it's just the totally staid nature of everyone else's outfits, but I'm also loving Elizabeth Banks's outfit, which looks like a six year old's dream. Her hair/makeup/accessories are perfectly low-key too.
In more subtle shades: Tessa Thompson wears a prom dress; Gugu Mbatha-Raw is all peach; Britt Robertson and Liana Liberato go shiny.
The most colorful of the night award goes to Gillian Jacobs, whose red leopard print would look less weird if that weird gold hoop wasn't sitting on her left side, and Bella Thorne, who rocked bright yellow leather.
Julianne Hough dresses for a proper tea party (except for the shoes); Nikki Reed took some kelp from the bottom of the sea and threw it on her body; Bellamy Young looks nice but her hair and makeup are just a tad too severe for my taste.
I leave you with this palette cleanser.
Images via Getty