Last night, the hidden factions of white supremacy fully emerged, though we know they were never really hidden. You could call Donald Trump's win a shock, but that's also another lie. The blinding red map last night that looks so much like blood, and feels so much like a relapse, is simply the reality of existence. Did you need to see it?
Overwhelmingly, white people voted to preserve whiteness. Fifty-eight percent of white Americans, according to CNN's exit polls, voted to make Trump the leader of the country. President Trump. Many of them, motivated by fear and ignorance, walked into a voting booth and put physical effort toward electing a racist, sexist tyrant who's been proven to hate everyone but himself. Sixty-three percent of white men voted Trump. The toughest pill is that fifty-three percent of white women followed them. Institutionally-educated and middle class white people voted to retain their power. The truth is that this is how it's always been. The fear is that we continue to live with the knowledge that all along, it was you.
This is not about how much America hates women or how sexist America is, because it's clear that white women helped facilitate Trump's win. The majority of them, who cared more about maintaining their privilege than their freedom to choose, used minorities as sacrificial property in the process. White men and women did this, among the many people and things to blame. The way Van Jones described the election outcome on CNN—as a "white-lash against a changing country"—feels true in a way nothing else does.
Certainly, white women actively organized to support Hillary Clinton, a candidate who coincidentally fought to erase her own history of punishing black Americans and serving white interests. It's evident that many white women wanted history to be made. They now know what many of us already do: that there are more of them than you. Too many privileged white women wanted a traditional regime to flourish, and many liberal white men and women who didn't think this could happen were happy to stand by and let the seismic shift toward white nationalism roll on, content to remain unaffected.
Today, we have to feel it, and we have to wonder why such a messy mixture of progress and regression has to persist, that in the same election that gave us our first Latina and first Indian American woman in the Senate, also feels simultaneously terrible, obstructive and perhaps essential to a revolution that could thrash a consistently broken system. The actuality of white feminism is plain to see and so is the ignorance to intersectionality.

G/O Media may get a commission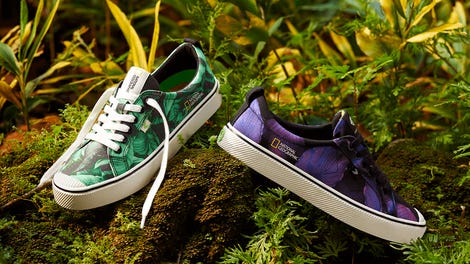 New New New
Cariuma + National Geographic
Last night as the numbers rolled in, I let out a familiar groan, the type that says deep down we knew this was coming, and that it's always the other way. Every statistic confirms what's self-evident, including the fact that there are few degrees of separation between you and a white nationalist. How close are you to a friend or family member of the white men and women who helped make this happen? After electing a black president, we want this to be a shock. Progression seems to be the optimistic popular choice. Then every four years, we watch the electoral map look exactly the same, with minimal changes, and we explain it away. For eight years, the colors on the map that worked out in our favor for two election cycles have been a blanket over a nation of racists who felt voiceless and who showed up this year, strapped with hate and alarming support from the people who look like them and let it happen.
President Barack Obama has an impossible healing message about working together and continuing the change he started. It feels requisite to say that after we get past this feeling, people will fight and that we'll unify because that like many things will always be true. But this is not about how much America hates women. Many of them wanted it this way.