Swedish actress Alicia Vikander is currently everywhere (she's starring in approximately 1 million movies and is nominated for two Golden Globes, thanks to her performances in Ex Machina and The Danish Girl) and the cover of January's Vogue is no exception.
The profile is written in Vogue's signature breathless style ("Slight and deceptively low-wattage, [Vikander] is the most beautiful woman in the room whom you might not even notice at all," sighs writer Rob Haskell), but—thank the gods and Anna Wintour—it stops short of describing her delicately picking at a salad niçoise, one small foot—carefully wrapped in a signature Chanel flats of course—delicately tucked beneath her. Instead it has Vikander—a former ballerina—going on a skydiving trip:
My doorbell rang at 5:45 a.m., a half hour early. I suppose I was expecting a suited chauffeur with a joyless expression to match my own, his starlet cargo waiting behind tinted windows. But when I opened the gate, there was Alicia Vikander in black leggings and cross-trainers, her familiar face, with its deeply golden complexion and wide-set brown eyes, looking stricken. It was a fear I recognized immediately, having been up much of the night myself. A few weeks earlier the Swedish actress had suggested that we go skydiving after I threw out some rather tame ideas for a Los Angeles playdate—a game of tennis, a visit to a nearby farmer's market, a sunny hike in the Palisades. Now the moment had arrived.
Other key Vikander facts described à la Vogue: 1. She has a bad memory. 2. Silver Lake in Los Angeles is "an expat Scandinavian commune" and not just the place where I went to a vegan restaurant that was infested with ants.

"I have no recollection of that free fall," she says a couple of hours later, over a Thai lunch in Silver Lake, the Eastside neighborhood where a number of her old friends from Stockholm, writers and musicians mainly, are living on a sort of expat Scandinavian commune.
G/O Media may get a commission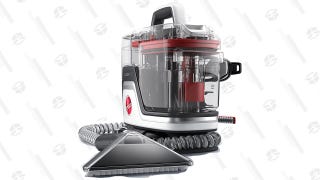 Save $10
Hoover CleanSlate Plus Carpet & Upholstery Cleaner
3. She dates Michael Fassbender and doesn't like it when you say she doesn't date Michael Fassbender.
The first bitter taste of fame came this fall, when the tabloid media began circulating a story that she and Fassbender had broken up. Alicia does not discuss her private life, and she has already learned not to engage those outlets that would like to force her to respond one way or another. But she makes clear that this story was balderdash. "I always believed there must be some truth to the stuff you read," she says. "But I learned."
4. She is disciplined.
Colleagues tend to point out Alicia's self-discipline.
5. Sorry, I was wrong. She does indeed have a signature outfit (two if you count the leggings and trainers).
Today she wears what appears to be the Alicia uniform: dark-gray jeans, T-shirt, flaxen sweater.
6. She is loud and outgoing.
Old friends like to talk about Alicia's goofiness, her devilishness, her tendency, guard lowered, to be the loudest person at the table, or in the karaoke room, or on the lawn in Beachwood Canyon where Swedish Angelenos like to play kubb, an old Viking version of horseshoes.
7. She is quiet and an introvert.
"If I'm going to be honest, we were all just waiting for her to become what she's become," says Alicia's old friend Caroline Hjelt, of the Swedish electro duo Icona Pop. They first met in Stockholm as teenagers, then shared a London flat together after graduation: four girls, two rooms. Alicia would run lines in her bedroom while Caroline DJed in hers. Insects took over the kitchen, and the four girls shared a single pile of clothing. On Sundays, unable to afford most of the pleasures of London, they rewatched the Bourne movies. It was a difficult time, and a beautiful one. "People assume that when you're famous you must be naturally extroverted," Caroline says. "Alicia is not, which makes everyone want to know more. She doesn't realize it, but it's a kind of superpower."
And this, my friends, has been another fawning Vogue profile.
---
Contact the author at madeleine@jezebel.com.
Image via David Sims/Vogue.