Alexandria Ocasio-Cortez, the 28-year-old Democratic congressional primary winner who simultaneously rouses feelings of inspiration and deep inadequacy within my young, icy heart, will not be the sole Democrat on the November ballot in her district. Instead, 20-year incumbent Joseph Crowley, whom she beat in an exciting, improbable primary race, will stay on the ballot—creating a situation that could split the Democratic vote.

If you are wondering why in the fuck this is happening, you can thank New York's byzantine election laws and the stubbornness of bad men. As the New York Times explains, Crowley received the endorsement of the Working Families Party, a group of labor unions and activists that has also backed New York Gov. Andrew Cuomo's primary challenger, Cynthia Nixon. But after Ocasio-Cortez's primary win, Bill Lipton, the state director of the Working Families Party, reached out to Crowley's team and asked that he vacate the line. Crowley, however, declined. This means he'll remain on the ballot, which is certainly a curious decision to make!
"You'd think that given the moment we're in," Lipton said, "that Democratic leaders would want to help progressive forces to unite." You would think that, except...recent history very clearly tells us otherwise.
More from the Times about how vacating the line even works:
The Working Families Party must go through a convoluted legal maneuver, essentially nominating the unwanted primary winner for another electoral position on the ballot — often one that he or she has little chance of winning, like a county clerkship in a region of the state dominated by the other party.

"It's very quirky," said Jerry H. Goldfeder, an election lawyer and an adjunct professor at Fordham University School of Law. "It demonstrates how the various minor parties sometimes have inordinate control over the way the ballot looks, and that causes confusion in the electorate." [...]

"This is the bizarre mechanism we have to go through in order to change our endorsement," Mr. Lipton said. "The primary is over and the world is changed."
G/O Media may get a commission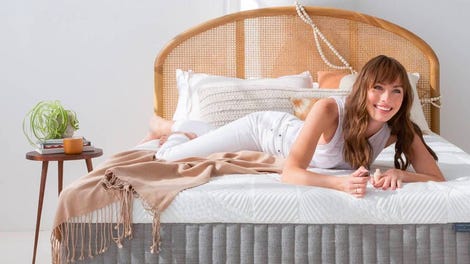 Sleep Sale
Sleep Sale - Brentwood Home
So here we have a situation where a combination of bad election laws and bad men may undermine a progressive woman's candidacy in a district she won by a significant margin despite being outspent by the well-funded Crowley.
Ocasio-Cortez, who is not putting up with this bullshit, called him out on Twitter:
Crowley fired back, calling for unity while....scolding her:
In the meantime, Ocasio-Cortez continues the hustle:
Update 7/12, 2:17 p.m.: The Working Families Party has issued an even stronger, incredible statement, kindly telling Joe Crowley to move out of New York. From director Bill Lipton:
"It is disappointing that Crowley has refused to vacate the Working Families Party ballot line.He chose not to show Ocasio-Cortez and the WFP respect by allowing us to put Ocasio-Cortez on our ballot line. WFP is giving all we have to electing Ocasio-Cortez and other progressive insurgents all across the nation. The only remaining way for Crowley to do the right thing is to switch his residency to Virginia, where his family resides and his children already go to school. It would fix the problem he created in an instant.

"Queens County Democrats practically wrote the book on election law so it's hard to imagine they don't know that there are standard procedures to remove a candidate from the ballot that have been approved by the New York State Court of Appeals."