The fall/winter collection Alexander McQueen presented yesterday in Paris was delightfully ridiculous: perfectly tailored leather sheaths; glittery hooded dresses; ladylike houndstooth severely cut; a feathered dress with cocoon-like eggshell collar. Plus! Soda-can rollers.
Ignore the trashcan lid hat and focus instead on the amazing quilted fabric, if you can.
The styling is purposely horrifying. Don't let it scare you!
G/O Media may get a commission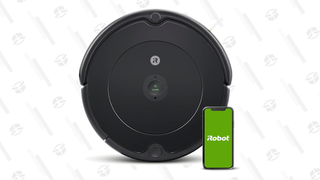 35% Off Black Friday Deal
iRobot Roomba 694 Robot Vacuum
Instead, check out this gorgeous glittery number which has Grace Jones's name all over it.
Thou shalt not cross the lady of the house! (That jacket is exquisitely cut, by the by.)
It's raining, it's pouring, McQueen is never boring.
You can admire the workmanship in this quilted coat, while still asking yourself who the hell would wear it.
Ankle-snappers! If you loved the shoes at Nina Ricci then these may seduce you.
The undisputed queen of Fraggle Rock.
Boots which look like stretched-out shoes with spats: Suessian.
As promised: Soda can hair rollers.
A new fairy tale: The Swan and The Raven.
Uh, make that The *Sad* Swan. Look at this way: If you go to the opera and get sleepy, you have your own feathered nest upon which to rest.
Here's what you're supposed to glean from this ensemble: He designed a silhouette with strong shoulders, nipped waist and exaggerated hips. Here's what you will remember: Bob Marley collar.
Not recommended for transatlantic trips; you're definitely going to set off the metal detector and the TSA will surely force a strip search.
Behind the Iron Maiden styling is a really, really beautiful portrait-collar dress.
Love the twisted, warped houndstooth!
Will we see this geometric red confection on the red carpet?
More tweaked houndstooth, with birds. This gown is gorgeous…
The genius is in the details, like the spiral effect on the hip, and the billowing, cloud-like skirt.
I mean seriously? This is a woman who is going places.


[All images via AP.]