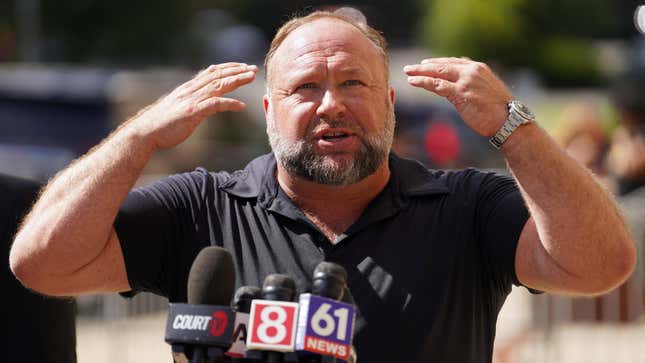 Last year, shortly after a judge and jury ruled that InfoWars conspiracy theorist Alex Jones must pay Sandy Hook families over $1 billion in punitive and compensatory damages for defaming them, Jones conveniently filed for bankruptcy. But on Thursday, the Associated Press reported that Jones spent $93,000 in personal expenses in July alone, mostly on housekeeping, dining and entertainment, upkeep for his cars and boats, and other "excessive household expenditures and his extravagant lifestyle," per Christopher Mattei, a Connecticut-based lawyer for the Sandy Hook families. Not one cent of the $93,000 went to families of Sandy Hook victims.

Matthew McConaughey Gives Impassioned Plea For Gun Reform
For years after the 2012 Sandy Hook shooting that killed 20 young children and six adults, Jones lied to his massive base of followers that the shooting had been a hoax, galvanizing supporters to harass, stalk, and terrorize mourning families who had lost loved ones to the shooting. According to the families' lawyer, Jones has been pretending to be broke—while spending lavishly on himself and making zero of the court-ordered payments.
These insights into Jones' spending come as part of his monthly financial reports in his personal bankruptcy case. The revelation that Jones spent $93,000 in July alone comes after, at the end of August, lawyers for the Sandy Hook families demanded via court filing that Jones reduce his personal expenses to a "reasonable" level or they will ask the bankruptcy judge overseeing Jones' bankruptcy case to intervene. This intervention would involve the appointment of a trustee to oversee Jones' spending or the dismissal of his bankruptcy case altogether.
Lawyers for the Sandy Hook families have also expressed suspicions about Jones' monthly $15,000 payments to his wife Erika Wulff Jones. Jones insists that the monthly payment is part of a prenup between the two, but lawyers for the families have called the payments "fraudulent transfers" with the goal of moving and hiding his money from the judge overseeing his bankruptcy case. The lawyers also say Jones' numerous companies and business deals have rendered it difficult to track all of his money. Jones' attorneys value his net worth at $14 million. But just last year, emails and texts obtained by Sandy Hook families' lawyers showed that at several points in 2018—the year InfoWars was widely de-platformed on social media—the company was still bringing in $800,000 per day. Jones' net worth was estimated at $137 to $270 million just last fall.
Jones, who in July spent $7,900 on housekeeping, $6,300 on dining and entertainment, and $3,400 on groceries, addressed the Sandy Hook lawyers' critiques of his spending on his show on Tuesday, insisting he'd done nothing wrong. "I like to go to nice restaurants. That is my deal. I like to go on a couple of nice vacations a year, but I think I pretty much have earned that in this fight," he said, before yet again calling on his followers to donate money to him. I'm no bankruptcy lawyer, but something tells me that "I like to go to nice restaurants" isn't exactly the best line of defense for someone involved in an active bankruptcy case.
Jones continued, "I'm not Lex Luthor... when it comes to finances and life. I mean, I'm a straight-up guy. I'm a do-good in Mayberry RFD." Indeed, one thing about Lex Luthor: He never lied that nearly two dozen kids killed in a massacre was a hoax.
AP further reports that Jones' company, Free Speech Systems, is currently seeking court approval for a new contract that would pay him an annual $1.5 million salary with bonuses—nearly double his current contract that accords him a $520,000 annual salary.
"It is disturbing that Alex Jones continues to spend money on excessive household expenditures and his extravagant lifestyle when that money rightfully belongs to the families he spent years tormenting," Mattei told AP. "The families are increasingly concerned and will continue to contest these matters in court."