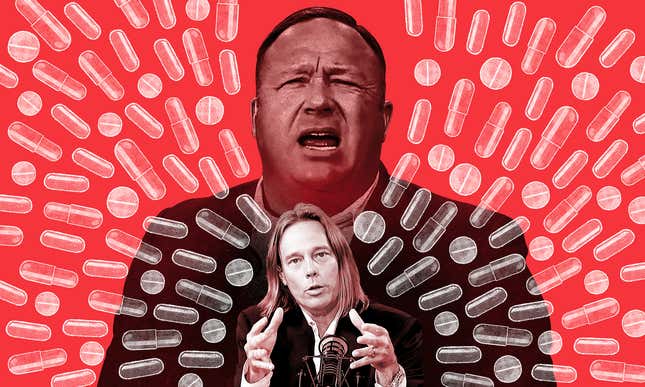 A good chunk of both the left and right-wing media worlds spent the past two weeks fixated on the child-custody trial of Alex Jones, the Austin-based conspiracy king and the most recognizable voice of paranoia in the United States. His lawyer argued in court that Jones's bananas on-air behavior is "playing a character," calling him a "performance artist" to counter his ex-wife's contention that he's unstable, mercurial, and ill-equipped to care for their three children.

Jones, who's repeatedly called the Sandy Hook shootings a hoax, had asked for privacy on behalf of his family. Jones has also denounced the latest attacks on him by the "presstitute" mainstream media, and insisted—contrary to his lawyer's argument—that he believes what he's saying. In the same breath, though, he allowed that sometimes he "plays satire roles" to make a point. In a late-night verdict last Thursday, after more than nine hours of deliberation, a jury granted Jones's ex-wife joint custody, with the ability to decide where the children will live.
Jones is a one-man suspicion empire, the throbbing, shouting, tomato-red heart at the center of the websites Infowars and Prison Planet. He broadcasts for hours every day, bellowing, growling, raging, and pounding his desk in a feverish outrage at the globalist forces, who are making us sick, weak, and progressively dumber to enslave us. His greatest-hits list is long and well-known, from accusing Hillary Clinton of being a literal demon who smells of sulphur or rotting meat to suggesting that innumerable shootings, acts of violence, and terrorism are false flags staged by the government to justify coming for our guns and our liberty. (He also suspects pharmaceutical companies of using noxious chemicals to create a "homosexual biosphere," which is not as fun as it sounds.)
Jones's public fixation with his innards and what threatens them seems to have begun around 2006, when he launched Infowars Life, an offshoot of the Infowars media empire focusing on dietary supplements. By 2013, he'd acquired a trusted friend and advisor in Dr. Edward Group III, a chiropractor who he described as "on board with the liberty movement," Jones's term for a particular mixture of anti-government fervor and all-purpose suspicion.
For the past few years, Group has appeared frequently on Jones's program to talk about supplements, health trends, and the dangers of vaccines, which he has suggested for years are linked to autism (They are not). Questionable medical experts like Dr. Oz and his support for unproven faux-medical treatments, or Dr. Phil and his penchant for casual exploitation of tragedy and mental illness make for good TV no matter your position on the "liberty movement." But lately, some of our most prominent faux experts are leaping out of the television and into government: Dr. Ben Carson, who has claimed, falsely, that some vaccines are superfluous, is head of Housing and Urban Development, appointed by a president who's also openly skeptical of vaccines and willing to publicly consider the discredited idea that they cause autism.

The Group/Jones relationship might be the best nexus we have for understanding how conspiracy theorism and and alternative health claims are intertwined. For some conspiracy-minded people, vitamins and supplements are a literal manifestation of a desire to protect oneself from outside influence, corruption, and the taint of the larger world. No one has said it better than Jones himself, in fact, in his passionate 2013 introduction to Group and his works.
"The real revolution here is that they're targeting our bodies," he thundered. "So that we're so poisoned that we can't even get upset or motivated to resist them. So the revolution starts with our bodies. It starts with getting our kids out of the public schools. It starts with decoupling from the system, not caring what Hollywood and the media say. And that's happening. Congress has a six percent approval rating. The mainstream media's dying."
A spate of profiles of Jones and explainers of Infowars have appeared since the election (the best, by German magazine Der Spiegel, featured Jones suddenly ripping off his shirt to performatively eat meat in front of the reporter). Between April 2015 and April 2016, according to Quantcast data, the site garnered 187.2 million global visits; in the next year, their audience grew by almost 25 percent, to 238.8 million global visits by April 2017. One of their all-time best days appears to have been November 10, 2016, two days after the presidential election.
Jones's new prominence makes his particular brand of health advice a more pressing concern. If, as Jones claims, he is playing a character when the cameras are on—or at least an exaggerated version of himself— of what value is the medical advice Jones offers on-air? What does it mean about the supplements, pills and treatments that he swears by, recommends to his audience, and sometimes gulps down mid-broadcast?
As Jezebel has discovered, questions like these are subject to some debate among Edward Group's staff. Group is the founder and president of the Houston-based Global Healing Center, a supplement manufacturer and distributor from which Infowars buys thirteen of their supplements. Infowars then private-labels them under the Infowars Life brand. Global Healing is a fairly small company, with under 100 employees at both the headquarters in Texas and a manufacturing facility based in Phoenix. The company sells about 40 supplements, along with colon cleansing kits, skincare products, and books and DVDs on natural health, including Group's own Green Body Cleanse and the exciting-sounding Fluoride: Poison on Tap.
It's unclear what percentage of Global Healing's overall revenue is made up of the private-labeled products they sell to Infowars—the company is not publicly traded—but one source estimates that the Infowars products generates millions in revenue for GHC. It's not information that many people at the company are privy to, a source tells us: "Team Managers are all very hush-hush about the company's relationship with Alex Jones."
Much of the Global Healing staff seems fond of Group, whom many refer to as "Doc." But some staffers also consider him suggestible and vulnerable to being led astray by Jones. "I think Doc reads garbage websites like InfoWars and Natural News and thinks that's research," one told Jezebel. (Everyone who spoke to us for this story asked for anonymity to protect their jobs and professional reputations.)
Group is susceptible to questionable news, another said: "Dr. Group posts nonsense fake news stories in public channels on our instant messenger service," they told us. "Recent topics have included things like Pizzagate, vaccines, disease 'outbreaks,' and other unfounded tripe that he poached from sites like Natural News or Infowars."
The GHC staff also questions whether Jones has a sincere interest in natural health; it's a subject of some gossip among them that he apparently eats terribly. "I honestly don't think he has" legitimate ties to the wellness movement, one said. "I think he recognizes that the natural health industry is dominated by foolish rich white men who prey on desperate, paranoid, uneducated people who don't know any better than to embrace the 'they're out to get you message' blindly."
Some staff worry that the relationship with Jones is prompting Group to make unprovable claims could mislead the GHC's customer base and the Infowars audience. Although the supplements themselves are largely harmless, staffers worry that the efficacy of products like oregano oil or B12 is being overstated.
The company also has a dedicated staff who are careful to keep the claims being made about the company's products on the right side of the law. One hot seller is lithium orotate; in a 2014 article, Group pointed to a raft of studies claiming that it's a helpful supplement for addressing mental health issues including alcoholism and OCD. (The FDA has sent a warning letter to another company that claimed the product can treat schizophrenia, and it's not approved by the FDA to treat mental illnesses.) Global Healing itself uses more cautious language, a source familiar with the company said: "We say 'mental clarity' or 'mental wellness.'"
(A press officer for the Global Healing Center declined to comment for this story or to make Group available for comment, beyond confirming that the company is the manufacturer of thirteen Infowars products. Infowars did not respond to a request for comment.)
One person with knowledge of the company says that GHC staff are "incredibly concerned" about the relationship with Jones. "Many of us have spoken up about the relationship. Our concerns are either ignored or dismissed."

"No one has any control over what Doc says on social media, other websites, or on InfoWars," that person said. "I worry that we'll lose customers and sales because of what he says, and then lose our jobs."
In a January Facebook Live broadcast, for example, Group claimed that a man recently undertook a "water fast" for 140 days to rid himself of all diseases. In a November appearance with Jones, he proclaimed this year's flu vaccine could be "the most dangerous yet."

"I'm not the type of person to try to instill fear, doom and gloom," he said. "But I am here warning everybody that this may be the most devastating flu season in the history of the world. Because I've never seen such a possibly, potentially — I'm not even going to say possibly — slew of ingredients that are going to be injected in our moms, our dads, our grandparents. We're on the verge of seeing a massive shift in disease and sickness and possibly even death."
Criticism is mounting outside the company, and Jones has noticed; in a monologue delivered on April 6, Jones responded to a critical article on Vox, in which reporter Julia Belluz watched in apparent horror as Group and Jones gave health advice. She accused the site of "spread[ing] misinformation and denigrat[ing] science," and said that Group and Jones are peddling a special supplement to fight an imagined problem, a "fungus epidemic" that mainstream scientists are ignoring. (A month prior, Group had claimed that "many people are suffering from chronic fungus infections," or else overgrowths of mold or yeast, leading to "close to 100" different diffuse symptoms, including weight gain, "brain fog," and fatigue.)

Group and Jones claim that the solution to this problem is Myco-ZX, an Infowars Life herbal supplement that Global Healing Center markets as Mycozil. (It can be yours for just $54.95 a bottle, although it's currently sold out at both Infowars and Global Healing.)
Jones and Group described Belluz's article as an attack on their fungal science, an attack on the concept of probiotics (although Mycozil isn't a probiotic), and overall, part of a targeted attack on Infowars by the media.
"This is all tailored to try to get the FDA after me," Jones growled on air. "They're coming on every front. Good. That just means I'm telling the truth and taking action."
Group agreed, a few minutes later, that fake news and shoddy journalism are "running rampant."
"But the great news, Alex, is that people are waking up," he added.
Jones has talked about his own health awakening at length, describing in 2013 how he "found Dr. Group and the things he was doing. I learned stuff from him I didn't hear from anybody else, that's been absolutely miraculous." In the same monologue, he claimed to have begun trying to rid his body of "toxins," chief among them the mind-controlling, "IQ-crushing" fluoride, which Jones and other conspiracists have argued for years is put in the water supply to dumb us all down. (Mainstream science does not support this view; the CDC recommends fluoridation of the public water supply to prevent cavities.)
Jones also shared that he'd "gotten into supplementation" in the past few years, both ingesting and selling supplements, some of which are of dubious nutritional value. Our colleagues at Gizmodo dubbed them "bullshit cure-alls" in 2015. That designation led Jones to angrily promise a lawsuit and call our former shared parent company, Gawker Media, "a known Democratic party hardcore gay lesbian transgender front group." (The lawsuit was not immediately forthcoming.)

In July, Vice's Motherboard examined some of the key claims behind Infowars Life products, finding no concrete data to back up many of them. Jones and Group, for example, often promote "nascent iodine," which has no proven superiority over regular iodine, found in many foods and table salt. They also regularly recommend colloidal silver products, including a liquid product, apparently intended to be taken by mouth, called Silver Bullet. The FDA recommends against taking any product containing silver orally, saying it has " no known physiological functions or benefits." It can also cause argyria, a condition that causes skin, gums, nails, or the whites of the eyes to permanently turn bluish-grey. Group and Jones can be seen on air promoting liquid colloidal silver in a 2015 video:
"It's one of my favorite things to have at all times, and it's one of the things I would recommend everybody use," Group told a caller in a broadcast from 2015. "Not only does it boost your immune system and many many other uses, but it's also one of those things that you need to have good stock of in case of like a pandemic like Ebola or something like that."
Like Jones, Group is a Texas native, an Army veteran who says he served in the 1/506 Infantry Regiment at Camp Greaves, Korea. He founded Global Healing in 1998, according to his official biography, after earning a Doctor of Chiropractic degree from Texas Chiropractic College, which would technically allow him to use the title "Doctor." Group also has degrees in nutrition and used to list himself as having a Director of Medicine (MD) degree from Joseph LaFortune School of Medicine, although as Vice noted, that claim no longer appears on his website. (You can still see it in other bios of him scattered around the internet.) The Joseph LaFortune School is based in Haiti, is not accredited, and was sued by the Florida State Attorney General in 2011 for defrauding medical and nursing students, by falsely promising they could get licensed after they graduated. He also lists credentials from Harvard Business School and MIT's Sloan School of Management; in both cases, those are continuing education certificates. Group attended Harvard Business's Owner/President Management Program, as did Tyra Banks.

Group's main passion is cleansing and detoxing, and GHC's flagship product is Oxy-Powder Colon Cleanser, which promises to use the power of oxygen " to gently cleanse and detoxify your entire digestive tract." Its main ingredient is a large amount of magnesium, which is well-known to cause diarrhea when taken in excess. (Global Healing, meanwhile, says that the "watery, extremely soft and easily passed stools similar to diarrhea" caused by Oxy-Powder are not, in fact, diarrhea, but "a normal reaction and a sign you are cleansing properly.")
By 2006, Group was trying to get FDA approval for another product called Paratrex, which he claimed "created a hostile environment to parasites" in the body. The FDA told him not to make that claim, and Paratrex, like many nutritional supplements, is not FDA-approved to treat or cure any disease. Global Healing currently promotes that Paratrex eliminates "toxic and harmful organisms" from the body. In 2006, according to FDA records, Global Healing was also sent a warning letter for their product ViraZAP, which they were marketing as a treatment for avian flu. (A followup FDA inspection in 2006 found that the company had stopped claiming the product was a treatment for the disease; it no longer appears to be for sale on the GHC website).
According to Vice, Group has also claimed that the FDA "raided" his offices in the past for selling colloidal silver. According to an FDA document from July 2006, the first visit to the GHC offices was probably triggered by the marketing of ViraZAP. Subsequently, an FDA inspector wrote, "The firm agreed to remove any and all drug related claims from their supplements, promotional material, and product websites by August 30, 2006." Records show that the FDA has made routine visits to GHC between 2006 and 2016, issuing citations for minor issues: not having written protocols for "preventing microbial contamination from sick or infected personnel" in 2010, and failing to check suppliers' invoices to make sure they matched orders in 2016.
Today, the thirteen Infowars Life products bought from Global Healing include Super Male Vitality, which is, according to Infowars, "specifically designed to assist the body in regulating proper balance to create superior vitality in males, and has been used by Alex Jones in order to maximize vitality when working up to 12 hours a day or more in the fight for freedom." Global Healing Center markets the same product as Androtrex, " designed to assist the body in regulating proper hormone balance to create superior vitality, energy, sexual drive, and overall wellness in males." (There's also Super Female Vitality to assist the ladies, although not specifically in their quest for liberty.)
The Jones/Group alliance has also led to some interestingly awkward situations. Group, for example, frequently promotes a vegan diet; Jones has said on air that "grass-eating" is a globalist plot to keep the populace docile, and that animal fats are necessary for superior brain function. (A few Global Healing customers apparently contacted the company in outrage after that one.)
Unlike Jones, Group wasn't onboard the Trump train from the start: Both Group and his wife Daniela, a naturopathic doctor on Global Healing Center's payroll, donated $2,700 to Marco Rubio's campaign in December 2015, records show. But the now-president evidently won him over, and these days he's an avid supporter. Group apparently hoped that Trump would support a healthcare reform effort that paid more attention to natural health efforts, and rolled back limits on "medical freedom." From a press release GHC wrote that was reprinted on Infowars:
Dr. Group asks President-elect Trump to assemble a team of scientists, experts, and independent researchers with no ties to the pharmaceutical, food, or chemical industries to evaluate the safety and effectiveness of all artificial ingredients, genetically modified foods, artificial sweeteners, colors, dyes, fluoride, herbicides, pesticides, phthalates, refined sugars, preservatives, and other toxic compounds added to, or used in our food and beverage production. He also recommends appointing a third-party research team with no ties to the pharmaceutical industry to evaluate the safety and effectiveness of vaccines and flu shots.

Dr. Group is volunteering his time, efforts, and expertise to begin this conversation and work towards healing America. America can't be great again until we make America healthy again.
While the GHC staff is fairly diverse when it comes to political views, people who aren't Trump fans feel uncomfortable voicing their views, one person told us: "Unfortunately, we are basically tarred and feathered for being honest about our own political views. Managers act as pro-Trump goons and lash out at anyone who has the nerve to voice a different opinion from Dr. Group's."
While it's tough gauge what Jones actually believes and what he doesn't—a subject, as we've seen recently, that can fill hours of court testimony—what's indisputably true is that Group's appearances on Jones's show are a fun mixture of paranoia and product-peddling; one appearance from 2014 leads seamlessly from a discussion about what they'll do in the event of a mass Ebola outbreak (Group shares that he has a secret hiding place near a national forest, stocked with silver and oregano oil), to a conversation about colon cleansing. "It's just absolutely pleasant and flushes you out," Jones beams, referring to Oxy-Powder. "Dynamite."
But that's not enough, apparently. These days, Group may have political ambitions of his own. Said one source at the company, "I've heard about his political goals through coworkers, but I don't think I've heard him say anything about it in person."
But according to another, "It's gotten so much worse since Trump won. Group has said multiple times he wants to run for office and he's using us to further that."
Perhaps no one better articulated Group's potential than Jones, when he said back in 2013: "We've got to go all the way, and not just leave Babylon, not just come out of Egypt, but actually build a new promised land. And there is no silver bullet, but there's a process." And it involves, apparently, a whole lot of colon cleansing.
This story was produced by Gizmodo Media Group's Special Projects Desk.