Alessandra Ambrosio has confirmed she is four months into her second pregnancy. For those of you who can count, that means that yes, she was already pregnant (about eight weeks) when she walked the Victoria's Secret show. Imagine! Two months along and still ambulant! Us magazine seems very, very impressed that Ambrosio was still skinny, too. They must think that's some kind of record. [Us]
---
The hilarious YouTube channel Pronunciation Manual — a spoof of the more useful Pronunciation Book — would like to embarrass you in front of your friends quicker than you can say, "Thanks, I bought it at Versayce." [Telegraph]
---
G/O Media may get a commission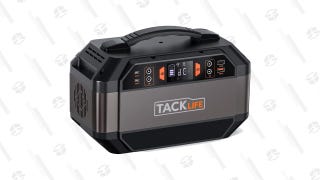 Tacklife Portable Solar Generator
A peeved-sounding Douglas Hannant told the Post that Jason Wu ripped off one of his designs in the latter's 2012 pre-fall collection. "If I knew that Jason Wu liked my dress so much, I would have sold it to him," said the designer. Hannant's dress was also worn by Anne Heche to an event. The dresses are similar, but far from identical, and frankly the whole "colorful shape on a black background to make you look all skinny," which is all the dresses have in common, is a pretty generic idea. Also, Wu's pre-fall collection shows a number of skirts and dresses that alternate black fabric with colored panels, suggesting it's at least possible this dress arose organically. Stella McCartney also sold a similar dress earlier this year; it's a pretty old trick. [P6]
---
Kate Moss is on the new cover of Marie Claire South Africa. It is her third January 2012 cover: she poses as David Bowie for Vogue Paris, and in a pool for Australia's Madison. [HuffPo]
---
Daphne Guinness hinted on Twitter that there will be an exhibition of the late Isabella Blow's clothing — which the heiress acquired last year — in 2012. "I am excited to be able at last to do her justice!" Tweeted Guinness. "There will be a foundation," she added, continuing, "I can say one thing, Julia delves-broughton [sic], Issies [sic] sister is a huge part, the collection will be safe. And I give thanks for Julia's trust." [@TheRealDaphne]

Victoria's Secret model Lindsay Ellingson has, like many models, both a "mother" agency and a "booking" agency. Only hers happen to be embroiled in a lawsuit. Mother agencies scout young girls, groom them for work as models, and negotiate their contracts with booking agencies worldwide — although in Ellingson's case, Los Angeles-based Photogenics is also a booking agency (a booking agency is an agency that handles the day-to-day work of getting models castings, go-sees, and jobs). Mother agencies and booking agencies tend to split models' commissions from work acquired through the booking agency, sometimes for the duration of a model's career. But Photogenics says that Ellingson's New York booking agency, DNA, owes it some $7 million in unpaid commissions. [NYPost]

There's a rumor that Kanye West is moving to London to become a fashion designer. His first collection was critically savaged, but he'll be back to show in Paris this March. [Grazia]

Peter Lindbergh shot Robin Wright in Los Angeles for the new Gerard Darel campaign. The French brand has long been sold in the U.S., but this March will be the first time its ads will be in U.S. magazines. [WWD]

Yves Saint Laurent has filed its response to Christian Louboutin's appeal of a court ruling in the long-running legal dispute over Louboutin's copyright on red-soled footwear. [WWD]

Saks Fifth Avenue held a 60% off sale in its women's shoes department on December 26th, one of the most hellish shopping days of the year. When an announcement came over the store P.A. that the discount was ending at noon, shoppers who were already in line to purchase panicked, and scuffles broke out, though no injuries were reported. Security shut down the floor around 11:30 a.m. [NYDN]

Also on Monday, the Mall of America was briefly locked down after fights broke out in the food court, which led to hundreds of people running through the mall, screaming, brawling, and wreaking havoc. Kind of like in that New Radicals video, only nobody had the foresight to bring butterfly nets with which to temporarily confine the human cogs of consumer capitalism, so the good burghers of Bloomington, Minnesota, had to be temporarily locked into the stockroom at a Cold Stone Creamery instead. [Strib]

Kendall and Kylie Jenner got chocolate labradors for Christmas, which they have named Louis and Vuitton. They match the existing Kardashian dogs, Dolce and Gabbana. We don't think we told you yet about the kittens we got for Festivus. They're named "Vomit" and "Bile," OMG so cuuuuute. [@KendallJenner]

Madrid fashion week, which is next scheduled for September 4-8, has landed a sponsorship deal with Mercedes-Benz, which also sponsors New York fashion week. [WWD]

And now, a moment with board-certified dermatologist and psychiatrist Dr. Amy Wechsler. Dr. Wechsler, in your opinion is there any benefit to using "organic" cosmetics and skincare products?

"The word organic has been taken from food and just plopped onto skincare without any regulatory body behind it. In the United States, if something like an egg is labeled organic, it's very clear what that means. But if a skincare product is labeled organic in the U.S., it is not at all clear what that means. There are no regulations on that."

That is...concerning but useful to know! And, uh, what about beauty stuff that's labeled "gluten-free"? Does that mean anything?

"Everything is going gluten-free now on a lot of labeling, so people are like, 'Of course, let's put it on skincare.' Next, it will be shampoo!...Based on the research I've seen, the gluten molecule is too big to pass transdermally. It may be absorbed through mucous membranes (inside the mouth, nose, etc) but not through skin. Most skin care products do not contain gluten, and if they are used properly (i.e. on the skin and not on or in a mucous membrane or wound) they should not cause problems. Separately, people who have wheat allergies should not apply products with wheat to their skin, as they could develop a local contact dermatitis."
That was actually some surprisingly straight talk about the beauty industry and misleading labeling — and from a lady on the Chanel consulting payroll to boot. [Style.com]