Fox News CEO Roger Ailes has successfully golden-parachuted himself out of the network, but little else about the environment he helped shape appears to have changed. The latest reminder of that came in a lawsuit filed Monday by Andrea Tantaros, who claims she was punished by network executives for complaining about sexual harassment from Ailes and Bill O'Reilly.

Tantaros is still technically employed by Fox News, but hasn't been on air since April. She claims that network executives retaliated against her when she complained about Ailes and O'Reilly harassing her. The network, meanwhile, says she was suspended because she failed to get her new book approved by them before publication, contending that it "embarrassed" the network.
In her lawsuit and public statements, Tantaros says that she complained to three top executives at the network about the alleged harassment: Fox executive vice-president Bill Shine, who's since been tapped to take over for Ailes, senior vice-president Suzanne Scott, and general counsel Dianne Brandi.
"Ailes did not act alone," the lawsuit says, in part. "He may have been the primary culprit, but his actions were condoned by his most senior lieutenants, who engaged in a concerted effort to silence Tantaros by threats, humiliation and retaliation."
Shine told the New York Times through a spokesperson that Tantaros never came to him about Ailes harassing her.
G/O Media may get a commission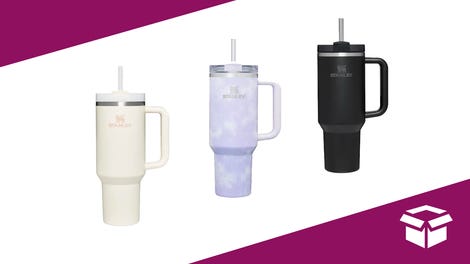 Up to 45% off
Stanley Cup Sale
Former Fox News event planner Laurie Luhn has also alleged in public statements that Ailes viciously harassed and "psychologically tortured" her for more than 20 years. She told New York magazine that Shine was tasked with arranging meetings between her and Ailes in that time.
As her mental health deteriorated, Luhn alleged to New York, Shine also helped arrange interventions that she contends were meant to keep her under Ailes' control:
A high-ranking Fox source confirmed that Fox moved Luhn to New York so Ailes could monitor her. Luhn remembers staying at the Warwick Hotel for six weeks. During this time, she said, Ailes told her he needed to approve all of her outgoing emails. "I'd show him all the emails I'm getting," she recalled. For several weeks, he marked them up and would "dictate exactly" how to respond. "You don't have friends," she recalled Ailes telling her. "I'm your friend. I'll protect you." He told her to also forward her emails to Bill Shine for review, she said. "The second floor" — where top Fox executives work — "was in charge of my life. I wasn't in charge," she said.
Shine has also denied that allegation.
The reporter of that story, New York's Gabriel Sherman, who covers Fox News like no one else, says Shine was instrumental in rallying the network's female stars to speak out against Gretchen Carlson when she first went public. In a CNN interview, Sherman said quite directly that Shine and other network executives were part of an entrenched culture of covering up harassment claims. Via Media Matters:
SHERMAN: The critical issue is that, a lot of the main players, especially Bill Shine, Roger Ailes' deputy who is in charge of programming and the Fox Business Network currently, played an integral role in the cover up of these sexual harassment claims. I reported yesterday based on internal documents —

STELTER: Those are strong words. Let me pause there for a minute, you said cover up of these claims. You're saying this man Bill Shine and others covered up what Ailes was doing?

SHERMAN: The way they did that, Brian, the reason I used those strong words, is they pushed women into confidential mediation, signing nondisclosure agreements in exchange for their contracts to be paid. These women needed to make a living, they signed nondisclosure agreements and as we have seen for the last 19 years, these allegations were not private. I have seen internal documents, I interviewed one of the women, Rudi Bakhtiar, on the record as did the New York Times, and if you see this, Bill Shine, Dianne Brandi, Fox News's general counsel, a lot of the senior executives around Roger Ailes were fully aware of this culture. Let's be very clear, they knew exactly what was going on, they did not speak up.
Besides Shine's promotion, Steve Doocy remains on-air and apparently unaffected by Gretchen Carlson's allegations that he subjected her to "severe and pervasive" gender-based harassment. Her lawsuit says Doocy was routinely "sexist and condescending" to her in the workplace, "refusing to accept and treat her as an intelligent and insightful female journalist rather than a blond female prop."
Bill O'Reilly, too, has been so far untouched by Tantaros' allegations. He also settled a particularly graphic set of sexual harassment claims in 2004, brought by a former producer named Andrea Mackris.
A New York Times story from last week says that the company's habit of paying settlements to deal with sexual harassment claims— and requiring nondisclosure agreements in return— kept the allegations against Ailes out of the public eye for years. (The paper also correctly points out that plenty of workplaces agree to confidential settlements or arbitration agreements to settle disputes with employees.)
Tantaros alleges that she, too, was offered a settlement "in the seven figures" to drop her claims against Ailes. Besides suing the network, she's also suing Shine, Fox News communications chief Irena Briganti, as well as Brandi and Scott.