In an effort to make the American Health Care Act—the GOP's replacement to the Affordable Care Act—more palatable to the far-right, Republicans added on an amendment that would make the plan even worse for women. Among the most flagrant additions to Paul Ryan's "Manager's Amendment," according to Slate, is one that would allow states to takeaway Medicaid from new mothers who haven't begun a job within two months after giving birth. 
The vote on the bill, which was initially to take place on Thursday, has been postponed.
But what else does this amendment promise for whenever they do get around to voting on this thing? It also, through complicated language, makes it legal for states to use federal money in a "block grant" that could potentially fail to cover many Medicaid recipients, particularly children. Health Affairs breaks down the possible harm of this poorly written rule, saying, "The amendment virtually eliminates any coverage obligations."
Beyond this, the amendment does away with Medicaid's current coverage standards, virtually all of which date to 1965: its requirement that coverage levels be reasonable; its detailed definition of what constitutes medical assistance; and its cost-sharing rules.

Presumably the amendment's "health care for children" coverage requirement is meant to suggest that the bill would retain some type of pediatric focus on the very poorest children. Obviously this language eviscerates Medicaid's special early and periodic screening diagnosis and treatment (EPSDT) coverage standard for children — an unprecedented definition of what coverage means for low-income children that has been part of Medicaid since 1967.
G/O Media may get a commission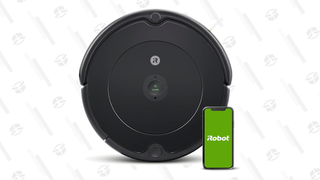 35% Off Black Friday Deal
iRobot Roomba 694 Robot Vacuum
On Thursday, Republicans also proposed getting rid of the Essential Health Benefits required under Obamacare. This would eliminate things like maternity care, preventative screenings, and pediatric care. The proposed elimination led to this interesting comment from Senator Pat Roberts:
And his subsequent apology:
Eliminating EHBs could also raise the cost of health insurance astronomically for expectant mothers as individual policy holders. The Kaiser Family Foundation reports that some proposals suggest excluding maternity coverage for men and older women, somewhat along the lines of Senator Roberts' thinking on the matter. This means that the "risk pool for plans that include maternity services would primarily be comprised of women who anticipate using maternity care, and would likely greatly increase costs for women who sought such coverage." Also, as KFF points out, about half of all pregnancies are unexpected, leaving many women with insurance that doesn't cover their maternity needs, or "pre-existing condition," were they to look for another option.
These measures are on top of the many ways the AHCA is already bad for women and children, starting with a plan to defund Planned Parenthood, a popular move amongst the GOP that will leave many women stranded when it comes to care they need even outside of abortion services. It will also likely be extremely expensive. And if you want insurance that covers abortion somewhere else? Too bad. The ACA currently allows states to ban Marketplace options that cover abortion, and quite a few have. But even that option will be closed by the AHCA. KFF reports:
To ensure no federal dollars are used to subsidize abortion coverage, the AHCA would no longer make this a state option, rather it would ban abortion coverage in all Marketplace plans as well as prohibit the use of federal tax credits to purchase any plans that cover abortion that are available outside the Marketplace. The bill would limit employer coverage of abortion by disqualifying small employers from receiving tax credits if their plans cover abortion beyond Hyde limitations. It also prohibits the use of tax credits for all individuals seeking a COBRA policy that includes abortion coverage after leaving a job, regardless of employer size. This could have the impact of discouraging employers from including abortion coverage in their employees' health plans.
The AHCA's overall plan to cap Medicaid funding is, in general, a decision that disproportionately affects poor women and children. If passed, it would likely cut Medicaid spending over the next ten years by $370 million, and also take away insurance from tens of millions of people. Despite what all these proposals indicate, women are people too.