On Monday, 15-year-old Bresha Meadows pled "true"—essentially a guilty plea for juveniles—to involuntary manslaughter, accepting the terms of a plea deal. The Ohio girl had initially been charged with aggravated murder for killing her abusive father, Jonathan Meadows.

According to the terms of the deal, in exchange for pleading "true" to involuntary manslaughter, Meadows received a sentence of a year and a day in a juvenile detention center, six months in a residential treatment facility, and two years of probation. Meadows's sentence included time served so the teen will likely be released from the Trumball County Juvenile Detention Center in northwestern Ohio, where she has already been detained for 10 months, in 60 days. Since Meadows entered her plea as a juvenile, she can have her record sealed after the completion of probation and purged in five years.
"Bresha is incredibly relieved and feeling optimistic about her life for the first time," Meadows's lawyer, Ian Friedman told the New York Times. "It was nice to see her genuinely smile yesterday. This young girl will now have a very bright future."
Meadows was initially arrested in 2016, when she was 14 years old. According to reports, on July 28, Meadows shot her sleeping father with a handgun. What followed were reports of years of abuse and violence that Bresha, as well as her mother Brandi Meadows and other family members, suffered at the hands of Jonathan Meadows. A 2011 order of protection alleged that Jonathan:
[...] punched Brandi until her teeth broke, kicked her, stomped on her, smashed her with a 25-pound weight while she was pregnant, required her to stay on the phone with him if she ever left the house alone, and threatened her and the kids with his gun, saying, "I will kill your fucking kids. You will watch your kids die. That is the last thing you'll see."
G/O Media may get a commission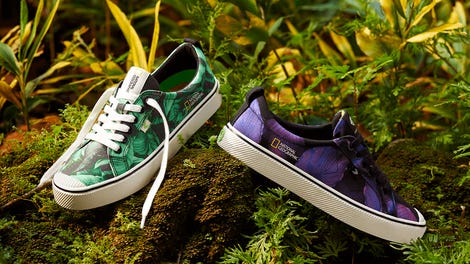 New New New
Cariuma + National Geographic
From the outset, Brandi Meadows has defended her daughter, calling the shooting death of Jonathan an act of self-defense. "She [Bresha] is my hero," Brandi told the Cleveland Fox affiliate at the time of Bresha's arrest. "I wasn't strong enough to get out and she helped me." Though relatives of Jonathan denied that he was violent, numerous witnesses, including cousins and an aunt provided detailed descriptions of his abusive behavior.
In response to the arrest and subsequent jailing of Meadows, numerous activists launched the #FreeBresha campaign which drew attention to the girl's plight as well as the failure of the state to protect black girls and women who are victims of domestic violence. Meadows's arrest and incarceration were a flash point of continued injustice, yet another example of the historic criminalization of black girls and women who act in self-defense against abusers (for a good overview of that history, read Lindsey E. Jones's summary of the literature here).
In a statement on their website, the #FreeBresha campaign said that they will "continue to push for Bresha's freedom until she is truly free. We ask all who support her to do the same."