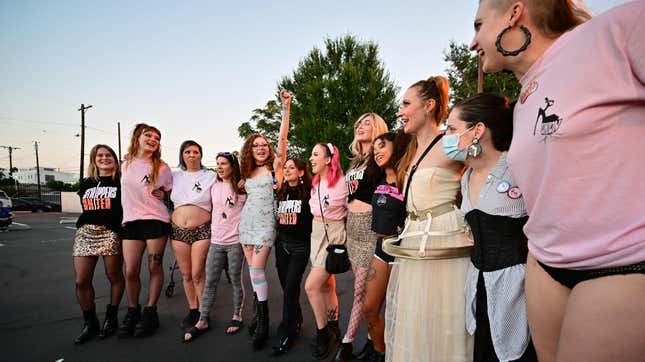 After one year and three months of striking, the dancers of Hollywood's Star Garden strip club have secured a historic victory and are set to become the only unionized strippers in the United States.
Berkeley Law Professor Calls Out John Hawley's Transphobia
On Tuesday, lawyers representing the owners of the Star Garden withdrew election challenges and agreed to recognize the strippers' union as part of the Actors' Equity Association, a nearly century-old union made up of actors and stage managers. After the vote to unionize is certified, the owners will meet with union attorneys over the next 30 days to negotiate the dancers' first contract, according to a statement from the dancers. The club, which had filed for bankruptcy, will reopen in the next couple of months, and the company will reinstate eight workers. Dancers will also receive back pay.

"If you have been following our journey, then you know this has been a long, exhausting fight, which is why this victory is so sweet," Reagan, one of the Star Garden dancers, said in a statement. "We put everything we have into this campaign, and we were fortunate to have the support and solidarity from the club's patrons, our allies and friends, the labor movement and our union, Actors' Equity Association."
"This is not just a win for the dancers at this club, but the entire strip club industry," Lilith, another Star Garden dancer, added. "Strippers who want to unionize their workplaces and have a voice in the way their clubs are run now have a clear path forward."
The nation's first unionized strip club, San Francisco's Lusty Lady, closed in 2013, making the Star Garden (when it reopens) the only unionized strip club in operation in the country. Ballots for the election will officially open later this week, and the Hollywood-based strippers are expected to vote overwhelmingly in favor of unionization, marking the first successful strippers' unionization effort since the 1990s.

"I'm excited that all of my beautiful coworkers will finally have a seat at the table and a voice to discuss safety and other issues," said Star Garden dancer Sinder. "This is a big day for us and dancers everywhere."

"Strippers are live entertainers. While some elements of their job are unique, they are essentially performance artists, and have a lot in common with other Equity members who dance for a living," said Actors' Equity Association President Kate Shindle. "Every worker who wants a union deserves a union. The Star Garden dancers have been absolute warriors throughout this long process, and I'm thrilled that we've won recognition of their rights to safety and democracy in the workplace and representation at the bargaining table."

The dancers first began striking outside of Star Garden in March of 2022, after the club fired two dancers who say they were retaliated against for speaking up about unsafe working conditions. Reagan, who goes by her stage name for privacy reasons, said she was fired after notifying management that a customer had become possessive over her and for pointing out that the club was allowing drunken customers to hang around their workplace after closing hours—a major safety concern for workers heading home late at night. Other dancers raised the issues of sexual harassment and safety hazards like broken glass, exposed nails, and holes in the stage.

"I've been picked up and carried without security intervening," Lilith said at the time, according to the New York Times.

The beginning of the Star Garden picketing efforts were highly publicized due in part to some ingenious themed marches: The dancers picketed as "twerking-class heroes," as French revolutionaries, and even dressed up as their own OSHA violations. But while the dancers were expected to unionize during last fall's election, questions over the dancers' eligibility to unionize delayed the vote for months, according to the Times. Star Garden had also filed for bankruptcy as part of the process to delay the vote, but, with the guidance of the National Labor Relations Board, Star Garden owners will seek to dismiss the bankruptcy case and begin the club's reopening.

"Star Garden decided to settle, as it has always been a fair and equal opportunity employer, that respects the rights of its employees," the club's attorney, An Nguyen Ruda, said in a statement. "Star Garden is committed to negotiating in good faith with Actor's Equity, a first of its kind collective bargaining agreement which is fair to all parties."

Big congratulations to the Star Garden dancers, who are workers above all else and who deserve safe working conditions, the opportunity to voice their concerns, and the ability to unionize their workplace. Solidarity forever!