Demi Lovato has taken another stand. Days after her calling Mariah Carey "nasty," or more specifically, describing Carey's behavior towards Jennifer Lopez as such, she has taken to Twitter to announce she will be leaving...Twitter. And also Instagram.
The problem with those two platforms, it seems, is the ability for her followers to respond with insults. So she's chosen gone from the accident-filled two-way streets of Twitter and Instagram and veered onto the one-way street of Snapchat.
G/O Media may get a commission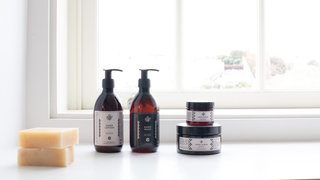 Exfoliate and Hydrate
The Handmade Soap Company
I'll let you know if I end up following her. Please take your thoughts about this Dirt Bag to Kinja!
[Twitter]
---
Before marrying Jennifer Aniston, Justin Theroux dated a woman named Heidi Bivens for 14 years. Her mother, Marilyn, spoke to Radar Online about it for some reason (money?), and claims she thought of Theroux as her son.
She also said this:
"Heidi told me what Justin had told her, that something was going to be written about him and Jennifer, that something was going on between them and he wanted her to know that it was nothing, there was nothing to it. Out of his own mouth he told my daughter there was nothing to [the news he was involved with Jennifer]."
And now, please, please, please read this next part:
"There are children of light and children of darkness. His world was very dark. We have a choice, even if you're not a Christian you know what's good; you know the choice of darkness and the people who are acting out that darkness. Justin is married now to Jennifer. They are, I believe, alike in spirit. They compliment one another the spirit of the world brought them together."
Correct me if I'm wrong, but I think Justin Theroux's ex-girlfriend's mom just called Jennifer Aniston a "child of darkness."
---
Someone sent this to me last night and said, "I don't understand what's going on with Chrissy's outfit."

---
---
Images via screengrab/Giphy.