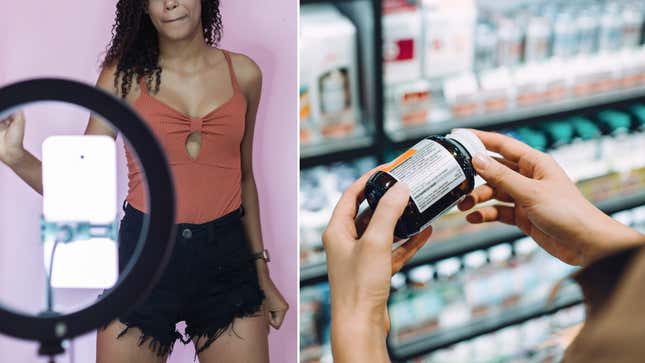 TikTok reportedly took $4.3 million from a brand shilling weight loss products—including one laxative drink that it claimed could help you lose 90 pounds in two weeks—between last November and the first week of January, a bombshell report from Media Matters for America revealed earlier this month. On Monday, Insider confirmed that TikTok has since either removed or limited who can see some of the company's ads.

Jennifer Aydin Had Women DMing Her After Relatable Cheating Scandal
Notably, at least on paper, TikTok takes a more progressive approach to weight loss and eating disorder-promoting content than other social platforms in its community guidelines, explicitly banning weight loss products since 2020. Through these policies, TikTok's stated goal is to "safeguard our community from harmful content and behavior while supporting an inclusive—and body-positive—environment."
Instead, Media Matters' senior researcher Olivia Little found the company received over $4 million in two months from Kilo Group, and specifically, its brands ColonBroom—the aforementioned laxative drink—and Beyond Body, which sells wildly unrealistic "nutrition plans" aimed at weight loss. Many of ColonBroom and Beyond Body's sponsored ad content features young, thin women lavishing praise upon their products, collectively garnering around 415 million views on their videos. ColonBroom and Beyond Body's individual TikTok accounts have fewer than 3,000 followers, but with hundreds of thousands of views on some of their videos which Insider notes "are difficult to explain without paid promotion."
This reach is especially concerning given who's likely very specifically being targeted: young women and girls. "I've spoken to men who all had no idea what Beyond Body or ColonBroom even were, and then the women I talked to were all, like, 'This is every other ad for me on my feed,'" Little told Jezebel. "But there's just no data to back this up because of TikTok lacking data transparency around ads." Nonetheless, based purely on the numbers that are publicly available and the anecdotes Little shared, it's clear the ads were prevalent, and, she says, designed to "exploit users' insecurities, in a manner reminiscent of 2010s Instagram and the 'flat tummy tea' ads that were everywhere."
Using ColonBroom's website, Insider found that a 5'8" woman weighing 250 pounds with a goal of losing 100 pounds would be told she could lose 150 pounds in five weeks with their drink—and 90 in the first two weeks alone—which is contrary to pretty much all science and medical guidance on healthy, sustainable dieting. Beyond Body promotes a more nebulous, 28-day weight loss plan marketed toward individuals interested in "getting a flat tummy before the holidays" or "achieving a dream body before going on vacation," Insider found. Dr. Wendy Bazilian, a registered dietitian, told the outlet that ColonBroom's products are more expensive and less effective than simply eating oatmeal, chia seeds, or other high-fiber health foods, and worse, could damage users' self-esteem by "getting their hopes up too high."
And—effective or not—both ColonBroom and Beyond Body's ad campaigns and influencer content blatantly violated TikTok's ban on weight loss ads. Still, while specific posts in violation of this ban were taken down or restricted, TikTok confirmed to Insider that KiloGroup continues to advertise on the platform. A spokesperson for ColonBroom said in a statement to the outlet that it "stopped distributing the ads that were considered inappropriate, as we see that the message we wanted to transmit was not clear." Beyond Body denied that it promotes weight loss content at all, telling Insider its plans are "a guideline" to teach customers "healthy eating methods," and argued that none of its flagged posts directly included the words "weight loss"—as if that's the only possible way for content to promote disordered eating or unhealthy body image.
TikTok did not immediately respond to a request for comment from Jezebel on the specifics of its restrictions on some of ColonBroom and Beyond Body's content, and how it determines which users to limit from viewing their ads. Nor did TikTok address whether and how it screens advertisers and influencer content, in general, for safety and accuracy, given the blatantly dangerous weight loss plans pushed by ColonBroom that successfully advertised on TikTok until recently.
The lack of sound nutritional advice pushed by KiloGroup's brands is especially concerning, given how TikTok is increasingly treated as a source for wellness and health advice—whether for "natural" birth control alternatives pushed by "trad wife" influencers with no medical background, weight loss advice from KiloGroup influencers, and, as Jezebel's Kady Ruth Ashcraft reported earlier this month, influencers teaching viewers how to make DIY Ozempic medications for weight loss purposes.
"Content on health misinformation, weight loss, all of this, goes viral organically pretty easily on TikTok. What we're now seeing over and over, as with [Kilo Group], is these companies are replicating the viral format or style of these viral TikToks, but they're doing it in the form of advertising," Little explained. And however progressive the language around TikTok's ban on weight loss ads may be, its inadequate enforcement of these policies is enabling these brands. "This wasn't a situation where one ad flew under the radar, like a small, low spending ad," Little said of Kilo Group's $4.3 million purchase. "This is, currently, a top fitness and weight loss ad buyer, and TikTok just ignored the fact that they were blatantly violating their ad policies in favor of collecting money."
TikTok's ban on weight loss ads originally spawned in 2020, at the height of covid, amid new research at the time that found the pandemic and shelter-in-place guidelines had driven a significant increase in disordered eating, especially among young people. Some of this was inevitably driven by widespread "jokes" about pandemic weight gain, mental health struggles exacerbated by covid, and also, certainly, the popularity of disordered eating content on TikTok at the time (and arguably today). Toxic weight loss culture has always thrived in the age of social media, given the eternal financial incentive for brands and corporations to profit off uniquely gendered insecurities pushed by wellness and beauty trends. And as Little's research shows, there's also clearly a financial incentive for social media companies to platform these trends—even in contradiction with their own stated policies.