Porn star and sex educator Jessica Drake became the 11th woman to accuse Republican presidential candidate Donald Trump of sexual misconduct, at a press conference on Saturday, where she detailed an incident that allegedly occurred 10 years prior.

At a golf tournament in Lake Tahoe, Drake claims that Trump grabbed her and two other women and kissed them on the lips "without permission" after inviting them to his room. Trump himself owned up to this sort of behavior (kissing women without without permission, aka assault) in a recording of a 2005 conversation between him and Billy Bush, but has maintained this was mere "locker room" talk, which he never acted on.
Drake also claims that later that evening she receive a call from someone asking on Trump's behalf for her to return to his suite, here's what followed:
"I indicated that I did not wish to return. Then Donald called. He asked me to return to his suite and have dinner with him. He also invite me to a party. I declined. Donald then asked me, 'What do you want? How much?' I told him that I couldn't. After that, I received another call from either Donald or a male calling on his behalf, offering me $10,000. I declined again, and once more gave as an excuse that I had to return to Los Angeles for work. I was then told Mr. Trump would allow me the use of his private jet if only I accepted his invitation."
The Trump campaign denied Drake's allegations, claiming they were orchestrated by the Clinton camp to defame the Republican nominee.
Just yesterday, Trump announced during a rally in Pennsylvania that he plans to sue every woman who has accused him of sexual assault once the election is over.
G/O Media may get a commission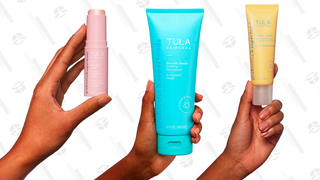 ---
I think it's safe to say the only thing anyone will miss about this election cycle's presidential debate trifecta are Kate McKinnon and Alec Baldwin's impersonations of the candidates.
McKinnon's Clinton began by literally sharpening her knives and that pretty much sums up her bit. Her reply when Tom Hanks (playing Chris Wallace) asks the candidates about their stances on abortion:
"Listen Chris I'm glad you raised this topic because what two better people are there to talk about women's issues. Me, a woman who has had a child and taken birth control, and him, a man who is a child and whose face is birth control."
---
• Miley Cyrus went door to door at the George Mason University dorms to make sure students are voting for Hillary. [The Cut]
• Tom Cruise stoked rumors of a completely unnecessary Top Gun 2 film. But he also claimed he can hold his breath for 6.5 minutes, so. [Us Weekly]
• Taylor Swift chose for her first live performance in a year to cover Calvin Harris. [People]
• Surveillance footage from Russell Crowe's dinner party doesn't show his alleged confrontation with Azealia Banks. [TMZ]
• Ryan Lochte remains in a slippery situation with Brazilian authorities. [TMZ]
• Solange Knowles will perform on SNL the first week of November. [Twitter]