By now Adele has taken over the airwaves and probably the stereo of your neighbor who's playing "Hello" on repeat through your wall. Success abounds for the London singer—but recently she admitted that she had to rediscover her confidence after her son Angelo was born.
In her new Rolling Stone cover story, Adele explained that she was kind of a shitshow for awhile.
"I was just drifting away," she explains, "and I couldn't find that many examples for myself where I was like, 'F—-, they truly came back to themselves,' until someone was like, 'Well, obviously, Ray of Light.'"
Thank God for Lourdes, right?
"You know what I found so amazing about that record?" Adele says. "That's the record Madonna wrote after having her first child, and for me, it's her best. I was so all over the place after having a child, just because my chemicals were just hitting the f——— roof and s—- like that."
G/O Media may get a commission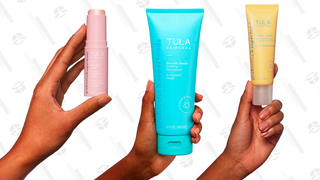 Adele says that Madonna's "Frozen," in particular, became a bit of encouragement in retrieving herself. She also talked about a new interview trend that she's not particularly into.
"I've been asked, 'Would you do Playboy?' so many f——— times, it's ridiculous," she tells the magazine. "And is that because I'm a woman or because I'm fat?"
She continued that no matter her size, she'd never be interested in showing off her body because "my body is mine."
"But sometimes I'm curious to know if I would have been as successful if I wasn't plus-size. I think I remind everyone of themselves. Not saying everyone is my size, but it's relatable because I'm not perfect, and I think a lot of people are portrayed as perfect, unreachable and untouchable."
Also, she loves her old friends but would be open to Rihanna joining her "squad."
"But maybe Rihanna can be in my squad! That would be really cool. Oh, God. She's life itself, isn't she? I love her."
Same Adele, same.
---
Contact the author at Hillary@jezebel.com.
Image via Rolling Stone and Getty.