Adele is having a good week: she's on the new cover of Elle and the U.K.'s Sunday Times named her the richest musician under 30 on its annual rich list. The newspaper puts her fortune at $46 million. [Elle, The Cut]
---
Reebok has dropped Rick "Rape" Ross. The brand ended the rapper's endorsement contract because, it said in a statement, "Reebok holds our partners to a high standard, and we expect them to live up to the values of our brand. Unfortunately, Rick Ross has failed to do so....While we do not believe that Rick Ross condones sexual assault, we are very disappointed he has yet to display an understanding of the seriousness of this issue or an appropriate level of remorse." [TMZ]
---
G/O Media may get a commission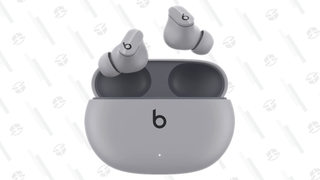 Gwyneth Paltrow made the cover of Harper's Bazaar. She talks about how much she enjoys her one weekly cigarette — an American Spirit light, of all things — and getting her face zapped with a laser that "feels like someone's smacking your face with a rubber band that has an electric shock in it." [HB]
---
Stoya is in the new issue of Pop, shot by Sean and Seng. The porn star talked to Fashionista about the fashion industry's enduring — but very selective — interest in porn as an aesthetic reference: "It almost seems like fashion is more interested in mining the Marquis de Sade and fetish subcultures than they are in just mining pornography — probably because if they put a dress that's meant to be shown on a fashion model on a 5'2 person with DD breasts it doesn't lay the same." You can see the full, NSFW editorial here. [Fashionista]
---
This August, Michael Kors is adding cosmetics to his fashion empire. [WWD]
---
Has cat fashion jumped the shark? [Fashionista]
---
• A Bangladeshi labor organizer and a garment worker who survived the Tazreen factory fire that killed 112 workers last November continued to lobby in Washington, D.C., for stricter safety standards and for the U.S. government to reconsider Bangladesh's status as a favored nation for trade. "It has been five years since the AFL-CIO filed its petition [seeking to have U.S. trade benefits to Bangladesh withdrawn or suspended because of alleged labor rights violations], and what improvements have there been?" said the labor organizer, Kalpona Akter. "They put us in jail for organizing and supporting workers' rights, killed my colleague and burned people in factories — 120 people have died. Is this improvement? No." Sumi Abedin, the garment worker, broke an arm and a leg jumping from a third-floor window to escape the fire. At just $43/month, Bangladesh has one of the lowest minimum wages for garment workers in the world, and the apparel and textile industry dominates the local economy. [WWD]
• The judge in the three-way clusterfuck of lawsuits between J.C. Penney, Macy's, and Martha Stewart over which department store will have the exclusive right to sell Martha Stewart-branded spatulas has released a flurry of rulings in the case. Allow Women's Wear Daily to explain the finer points of Judge Jeffrey Oing's rulings:
• Oing denied Martha Stewart's argument to dismiss its exclusivity of design claim. [...]

• Agreed that Penney's didn't violate confidentiality either.

• Dropped Macy's claims that Penney's intentionally interfered with the MSLO/Macy's contract.

• Dismissed Macy's claim for damages as it relates to disgorgement. This means that Macy's will not get MSLO's design fee that it obtained from designing product in exclusive categories for Penney's. MSLO said the fee amounted to about $4 million.
Oing also said these rulings do not mean he will ultimately decide the case in Macy's favor. [WWD]
• In this spring retail survey, Cathy Horyn refers to a $290 ivory crepe blouse at Opening Ceremony as "low-end." [NYTimes]
• The AARP wished Marc Jacobs a happy 50th birthday on its blog, and reminded the designer he's now old enough to join. [AARP]
• Jennifer Garner is rumored to have been shot recently for some kind of a Max Mara ad campaign. [WWD]
• Um, duh, of course you want to look around the Doc Martens headquarters. [Refinery29]
• Issa, the label that remains best known for making the blue dress Kate Middleton wore in her official engagement portraits, is collaborating on a capsule collection for Banana Republic. [WWD]
• Uniqlo is expanding at an average rate of two new store openings per week in Asia, where it is the largest apparel retailer. And the chain intends to become the biggest retailer in the U.S. — but that will be a long road given that it has just five stores here now. Fast Retailing, Uniqlo's parent company, has also been active in acquiring (or bidding on) U.S. retailers, including Intermix (which ended up going to Gap Inc.), and J. Brand (which it acquired for $290 million last year):
Former Fast Retailing executives said [C.E.O. Tadashi] Yanai, who along with family members owns as much as one-third of the company's shares, wrestled with two sometimes opposing wishes: his eagerness to make a splashy deal in the U.S. and his refusal to pay a penny more than what he perceives to be fair value.

As a result, former executives said, the company would do months of due diligence on a potential U.S. acquisition target, only to see Mr. Yanai scrap the deal at the last minute over small differences in price. They said Mr. Yanai keeps a rolling list of 10 to 20 potential acquisition targets and constantly tracks and adjusts their valuations.
[WSJ]
• Fast Retailing said its net profits during the six months just ended increased year-on-year by net profits grew 13.2%, to $785.40 million. Sales were up by 17%, to $7.38 billion. [WWD]