Rumor has it (sorry, couldn't resist) that Adele was asked to be a face of Burberry — and that she responded by asking if the brand would be interested in collaborating on a collection for plus-size customers. Seems pretty reasonable to ask a company interested in making money off your face to make clothing for your body. Burberry, of which Adele has long been a self-professed fan, refused to comment on the allegation. [Vogue UK]
---
Amazon's discount site MyHabit got hold of a couple — like literally two — of the Prabal Gurung dress that Kate Middleton wore last week in Singapore. The dresses, priced at $599 instead of the MSRP of $1995 because they were last season's stock, sold out within an hour. [NYDN]
---
G/O Media may get a commission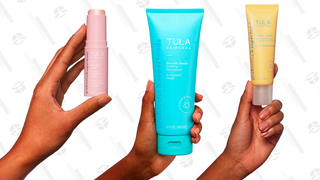 Whoa, whoa, whoa. Kim Kardashian got a kitten who looks a lot like Choupette Lagerfeld. Koincidence? Kardashian's kat's name is Mercy. [Insert own "Your kat she so thirsty" joke here.] [Fashionista]
---
Anna Wintour succeeded in convincing a few more celebrities and designers to contribute to her Runway to Win fundraising initiative — just one of the many projects that have made the Vogue editor the fourth-biggest Obama campaign fundraiser. Now available for sale are a trio of baby onesies from Beyoncé and Tina Knowles, a makeup bag by Rachel Zoe, and a t-shirt from Sarah Jessica Parker. [WWD]
---
Jourdan Dunn nabbed her sixth cover of i-D. [ONTD]
---
Goop is apparently a power referrer. When J. Crew and Gwyneth Paltrow partnered on eight outfits Paltrow photographed for her site the retailer suddenly found it was getting 8% of all its Web traffic for the day from Goop. [WWD]
---
More than a year after firing Patrick Robinson, Gap has a new creative director. And she comes to the company by way of H&M. Dane Rebekka Bay, who was responsible for the development of H&M's higher-priced European brand COS, says she is excited about the new job and sees some parallels between the Danish design aesthetic and Gap's own, namely that each is "very functional and modern and based on great craftsmanship and design. The approach to design is very craft based. The material itself can carry a good part of the design." [WWD]

Now in addition to worrying about (and spending money on) your aging skin, the beauty industry would like you to worry about (and spend money on) your aging hair. At least, that's why Pantene says it hired Noted Old Person and actress Courtney Cox as its latest "face." [WWD]

Dudes, don't act like you get a free pass, either — especially not in South Korea: reports the Associated Press, "This socially conservative, male-dominated country, with a mandatory two-year military conscription for men, has become the male makeup capital of the world." South Korean men spent $495.5 million on beauty and skincare products in 2011. [AP]

VFILES, the social media site-cum-giant, searchable fashion image archive associated with V magazine, is now live. You should all be using it. It's like Pinterest but with more Damir Doma! [WWD]

Kate Middleton and the British Royal family being upset by the recent publication of a certain set of grainy photographs of the former's nude torso, they have retained the services of French lawyer Aurélien Hamelle. Hamelle, you may recall, represented disgraced designer John Galliano during his trial last year. [WWD]

A show of photographs by Vivian Maier is now up at Chicago gallery Thomas Masters. [Racked]

"Tom Ford talks about bondage knots as others might the weather," begins Women's Wear Daily's review of the photography-averse designer's spring collection. "Like it's the most normal subject in the world." The review continues:

For spring, he went for "a mix of chastity and perversity," which meant the bondage knots that wrapped up silky tops and dresses were tied using silk cord, and slithery black patent pencil skirts were often teamed with roll-neck sweaters or loose, blouson tops. But make no mistake: This collection was fierce and often brazenly sexy. There were glossy, patent trenchcoats with demonstrative collars in black and nude; skintight pants composed of tiny strips of cobalt blue leather, and slinky gowns made up of beaded mesh bands unstitched here and there to reveal flashes of thigh.

[WWD]

Scott Schumann says the nearly lost art of sneaking into shows is still alive and well in London: "I'm a little disappointed that in New York the FIT kids and the Parsons kids don't bring the same enthusiasm. They don't try to sneak into shows. I don't know why the kids aren't trying to sneak into shows?" Fashion G.P.S. is why, Scott. [Fashionologie]

A photographer died and a male model was injured after falling out of a window — the blind was drawn but the window was apparently open — at a London Fashion Week kick-off party. [Telegraph]

The power went out for a brief minute during the Erdem show at London Fashion Week. The models kept walking, which must have driven the runway photographers nuts. [The Cut]

Former Pringle of Scotland designer Alistair Carr has been named the creative director of Alexander McQueen's lower-priced McQ line. [Telegraph]

The very rich, they are different from you and me. Take Target C.E.O. Gregg Steinhafel: he just made $6.2 million on Friday by exercising an option to buy some of his company's shares at $33.80 a pop and selling them on the stock market for $64.57. How was your Friday? [WWD]

And now, a moment with Iman. Iman says that in by her early 30s, years of modeling had so extensively manipulated her hair that "my lacefront had a lacefront." So she's not sure when she started going grey, only that she first noticed it at 34. Iman prefers to dye her greys — "I will not surrender my crowning glory simply because the Good Mother [Nature] is standing on the sidelines politely flashing an illuminated wrap it up box," she writes, "She knows I'm prideful about my swag" — but she has respect for women who embrace the grey, too:

I think women who are completely gray are positively sublime. Whether cropped short or long and layered, every woman I've ever laid eyes on with a well-appointed sterling mane is at once regal and proud. They always strike me as being high priestesses of sorts; women who are light years beyond societal beauty norms so much so that they've created their own niche where they can be alluring and beguiling without having to get into the whole battle royale that is aging. They get the joke; what makes the hot chicks hot is that they aren't slaves to narcissism. They have the moxie to take their vanity in moderation which gives them an air of wisdom and strength.