When the holidays roll around, do you enjoy watching It's A Wonderful Life and feeling a fleeting sense of hopefulness? Well, the Washington Post would like to ruin that for you. In a profile of 71-year-old Karolyn Grimes, who played little Zuzu, the paper reveals that her life turned out to be kind of depressing. Grimes appeared in 16 movies as a child because her family needed the money, but she says:
"My mother died when I was 12, and right after my dad died in a car crash. I was 15 and had no family. The court sent me to live with my uncle and aunt in Missouri ... They were kind of nutso religious fanatics who didn't believe in movies, dancing, singing, that kind of thing," she remembered. "I don't think they believed in laughing, either."
And things were still rough when she became an adult. The paper reports:
Soon she was married with two daughters, then divorced, and the girls' father died in a hunting accident. Remarried, she had a son and daughter and helped raise her second husband's three children from a previous marriage. Then her 18-year-old son committed suicide, and her husband died of cancer. She retired to take care of her teenage daughters, two of whom became single parents.
An uplifting ending would be nice here. I mean, the message of the movie (which Grimes didn't even see until she was 39) is that life really is worth living, and you're important to your friends and family. Instead, we get this:
"My life has never been wonderful," she offered quietly. "Maybe when I was a child, but not after age 15."
G/O Media may get a commission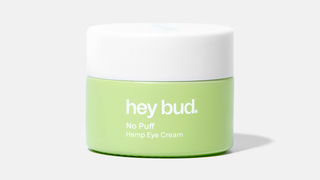 15% off
Hey Bud - No Puff Hemp Eye Cream
Okay, that's just great. Does anyone know where I can find that Debbie Downer sound effect? I'm going to need when I share this information with my family during our annual It's a Wonderful Life viewing.