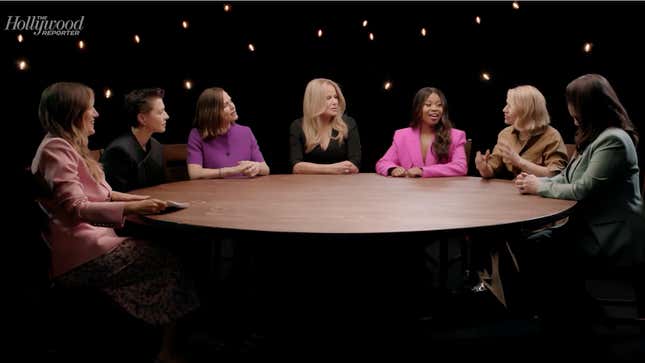 Is the installation of mental health professionals about to upstage the demand and—sometimes insufferable—discourse for intimacy coordinators on film sets? Time will tell, but we just got confirmation from some of our favorite thespians that the former is every bit as necessary these days.
Is Emmy Rossum Old Enough To Play Tom Holland's Mom?
On Thursday, the Hollywood Reporter released yet another actors roundtable (is it just me, or does one of these arrive weekly now?) which brought together Dominique Fishback, Clare Danes, Emma D'Arcy, Jennifer Garner, and Melanie Lynskey to discuss things like inner child work, gender norms, and self-hate. Just girly stuff! Other highlights include Garner not yet knowing how Coolidge dies in the White Lotus, Danes being impressed that today's teenagers know what My So-Called Life is, and D'Arcy's newfound displeasure of a negroni sbagliato with prosecco in it.
At one point, the conversation turned to what's curiously missing from sets—something that could make executing emotionally challenging scenes easier to recuperate from. Fishback shared that that death scene in Swarm left her so overwhelmed that she "couldn't stop crying" and prompted her to ask for a mental health professional. Frankly, installing a therapist on set seems like as much of a no-brainer as making one accessible in any other workplace—a newsroom, especially—but apparently, it's something of an unconsidered concept for the veterans at the table.
"That's so self-possessed and smart of you to ask for a therapist," Danes commented. "Oh, I'm very impressed," Lynskey echoed. "Coolest thing I've heard," approved Garner.
"I didn't want it to feel like, 'Oh man, she's dramatic,'" Fishback told the table. "I didn't even know if I was going to need it, but I thought it's better to have it and not need it than to need it and not have it."
Fishback explained that she'd gotten the idea from filming Fred Hampton's assassination scene in Judas and the Black Messiah. The shoot happened to take place on the 50th anniversary of his death: "That day, Shaka King, the director and co-writer, came and he looked at all of us and we were all real quiet and he said, 'I think we should have therapists on set.'"
Of course, Lynskey noted that she works with a majority of younger actors and feels compelled to advocate for stronger protections on set: "I love that idea of having a therapist for those scenes." Honestly, I wouldn't be at all surprised if the next season of Yellowjackets sees an outfit of on-set therapists ready to chew on the accompanying trauma of consuming a fake body with Lynskey's co-stars.
Coolidge, meanwhile, did as Coolidge does which is to say she didn't miss an opportunity to provide levity. When asked what role she'd next like to tackle, she replied: "I'd like to play skinny, but then I have to get skinny."
Never change, guys. As for sets...Hollywood, you know what to do.