For all its benefits, the rapid development of social media has brought with it new occasions for exploitation and harassment — and oftentimes these offenses go unpunished. But women are mobilizing to combat one especially pernicious form of online sexual violence: revenge porn.
According to End Revenge Porn, it would be more precise to use the term "nonconsensual pornography, defined as the distribution of sexually graphic images of individuals without their consent." Broadly recently interviewed a number of women who have been the targets of nonconsensual pornography, generally after a vengeful ex-boyfriend sought to humiliate them — sometimes even render them vulnerable to physical attacks.
Anisha Vora and Nyika Allen, both of whom appear in the film, sought legal recourse after discovering that their ex-boyfriends had posted intimate photos of them across the Internet. But as Broadly traces their narratives, the film demonstrates how ill-equipped law enforcement remains when these cases arise. And in some states revenge porn has yet to be treated with the severity necessary to eliminate it. From Broadly:
"Twenty-six states now have specific revenge porn laws on the books. But despite these recent legislative victories, non-consensual pornography is still a growing problem. In states where revenge porn isn't an explicit offense, existing anti-harassment laws fail women who have had their privacy violated online."

Although women are not the sole targets of revenge porn, they do comprise, the film notes, 90 percent of the victims. Both Anisha and Nyika have endured brutally protracted processes in order to achieve some semblance of justice. But though their ex-boyfriends are brought to court and punished, the harm endures. For instance, Anisha still receives reports of websites that refuse to take down the pictures her ex-boyfriend posted. Nyika's harasser actually goes so far as to make lewd gestures at her in court.
And yet, as Broadly notes, Anisha, Nyika, not to mention other victims and allies, have "ignited an activist movement to reclaim their lives, images, and narratives." Nyika has delivered a TED talk entitled "Fighting Revenge Porn," and Anisha has told her story to a variety of news outlets.
G/O Media may get a commission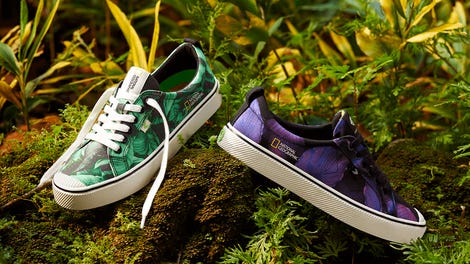 New New New
Cariuma + National Geographic
"When the public is able to hear from the victims themselves, and to hear their stories, and to hear that they're not just dirty people doing crazy things, I think it's really helping the public understand that this is a problem caused by someone else," says Elisa D'Amico of the K&L Gates Cyber Civil Rights Legal Project, "not these men and women who are really truly victims."
---
Contact the author at rachel.vorona.cote@jezebel.com.
Image via Shutterstock.