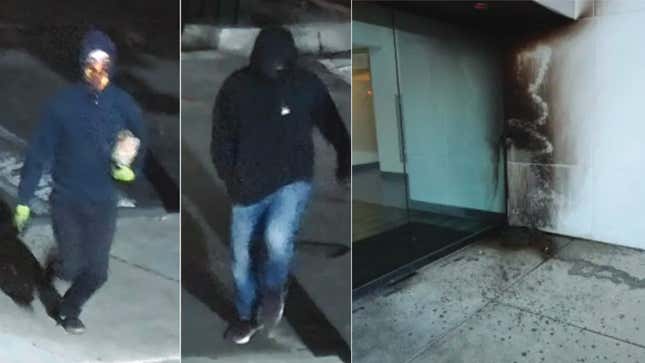 An active-duty U.S. Marine is among two men who were arrested on Wednesday for firebombing an abortion-providing Planned Parenthood clinic in Southern California last March. The two men were identified as Chance Brannon, the 23-year-old active-duty Marine, and Tibet Ergul, 21. Both face charges of "using an explosive or fire to damage real property affecting interstate commerce" for throwing a Molotov cocktail at the Planned Parenthood of Costa Mesa, according to federal prosecutors.

Red Tape and Sexism Have Kept Abortions From Being Provided at OBGYN Offices
Federal authorities opened an investigation into Brannon and Ergul in April after the FBI's National Threat Operations Center received evidence from a witness who knew them in high school. Brannon and Ergul allegedly sent a photo of the Molotov cocktail they used to firebomb the clinic to the witness, who then contacted the FBI—notably, after the agency offered a reward of $25,000 for information leading to an arrest for the arson.
Surveillance footage from the clinic shows the two men alleged to be Ergul and Brannon dressed in hooded sweatshirts and face masks arriving at the clinic at around 1 a.m. on March 13, 2022. Upon throwing the Molotov cocktail at the clinic entrance, a fire spread across the walls and ceilings, ultimately forcing it to shut down for a morning and cancel roughly 30 appointments. Brannon and Ergul face up to 20 years in prison if convicted.
In a statement shared with Jezebel, a spokesperson for Planned Parenthood Orange and San Bernardino Counties said the organization "[stands] firm against those who would wish to intimidate our staff, patients and supporters." The statement continues, "Their safety is our highest priority, and we will not be deterred in our mission to provide expert, compassionate care to our community, as we have done for over 50 years."
The attack on the Southern California abortion clinic is part of a surge in anti-abortion violence targeting clinics in recent years. The arrests of Brannon and Ergul come after just earlier this week, another California man pleaded guilty to sending death threats to reproductive health facilities in Santa Barbara and Los Angeles last year. Since Roe v. Wade was overturned, the National Abortion Federation found that clinics in states where abortion remains protected—like California—have become subject to even greater harassment and violence.
Over the last 50 years, NAF has documented 11 murders, 42 bombings, 200 arsons, 531 assaults, 492 clinic invasions, 375 burglaries, and thousands of other criminal acts directed at abortion patients, providers, and volunteers. Between 2021 and 2022, NAF found that clinics last year saw a 100% increase in arsons across the country. Of course, despite routine violence targeting abortion clinics, law enforcement has focused largely on violence supposedly targeting anti-abortion organizations, and surveilling the activities of pregnant people.