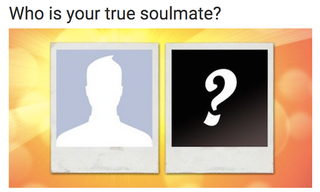 Who is your true soulmate? Good news: It's someone you know :)
Apparently Facebook, a social media site largely used by long lost relatives, has been taken over by the Soulmate Quiz. People who've taken the quiz are confused because, well, they use Facebook and because most are being matched with their siblings and/or best friends. I took it several times and got matched with a friend and siblings. Clickhole, is this you?
Facebook people should've been tipped off by the fact that, first of all, it's not even a quiz. Via Business Insider:
The quiz was created by CaptainQuizz, a company that offers dozens of "quizzes" that just analyze a bunch of stuff from your Facebook page and then give you a result.
How the quiz works is that you enter your Facebook login information, after which the quiz matches you with a person from your circle of friends, exes, hookups and anonymous faces whose friendship you accepted one day because you were like, maybe I know this person but just forgot.
You know what they say, though: Your soulmate probably shares your DNA.
---
Contact the author at clover@jezebel.com.
Image via CaptainQuizz