Women on Waves, a Dutch organization of abortion-providing privateers that has frustrated religiously conservative, seaside communities for more than a decade, has aimed the prow of its ship at Morocco, and will soon dock at the northern Mediterranean port of Smir on Thursday unless the skittish Moroccan authorities have their way. According to the AP, the Dutch ship, which ostensibly helps provide safe and legal abortions in each of the seven seas, was invited by the Moroccan women's group MALI (Alternative Movement for Individual Liberties) to raise awareness in the struggle to legalize abortion in the conservative Muslim country.
Moroccan Minister of Interior Mohend Laenser said that security officials had not heard of the ship's arrival, and added that, so long as Women on Waves respects Moroccan law, there isn't a whole lot the Norringtons of Morocco's thalassic sovereignty can do. "The people charged with applying the law," added Education Minister Lahcen Daoudi, "will apply it on everything to do with the boat." According to Women on Waves, the organization can provide women with safe and legal abortions under Dutch law in international waters during the first six-and-half weeks of a pregnancy. In preparation for the ship's visit, the organization has set up a hotline for Moroccan women seeking more information about abortion, including local pharmaceuticals that can be safely used to perform abortions at home.
MALI has been fighting the good fight to legalize abortion in Morocco, where the group estimates that there are "between 600 and 800 abortions a day." Ibtissame Lachgar, one of the group's members, added, "We want to legalize abortion, to condemn this law that destroys freedom, that we find criminal." If all goes according to plan, Thursday's momentous docking will represent Women on Waves' first visit to a Muslim country.
Just a few years ago, however, it it was doubtful that the organization, founded by Rebecca Grompet, could carry out its mission, as then-recent changes to Dutch law placed limits on women's access to medical abortions, meaning that Grompet and her organization could be prosecuted for their efforts. After some confrontations with countries that have a decidedly conservative Catholic streak (the organization was prevented from docking in Portugal in 2003), Women on Waves looks to be facing another intransigent conservative government — Morocco's Ministry of Health has warned that if the people on board the ship plan on carrying out any medical operations, they will be in violation of Moroccan law.
G/O Media may get a commission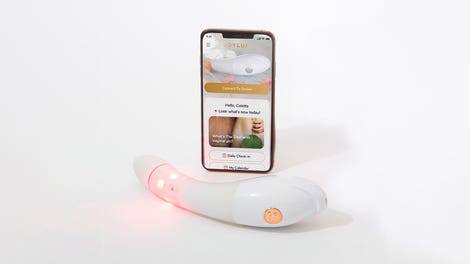 $50 Off
Joylux vFit Gold Device
Morocco says incoming abortion ship illegal [AP via USA Today]